On November 14, 2018, a meeting was held between President of Russia Vladimir Putin and Japanese Prime Minister Shinzo Abe in Singapore during the ASEAN Summit (Association of Southeast Asian Nations). After that, in both countries they started talking about the possibility of concluding a peace treaty; therefore, the opinion of the famous Japanese political scientist, expert and diplomat Kazuhiko Togo is of real interest.
It must be clarified that Kazuhiko Togo is already known to the Russians. It was he, as the head of the Department of Europe and Asia, the Japanese Foreign Ministry, who was preparing the meeting between President Vladimir Putin and Prime Minister Yoshiro Mori in 2001 in Irkutsk. And before that, he headed the USSR Department of the Ministry of Foreign Affairs of Japan. So this person is very authoritative, competent and does not deal with "concussion" of air.
According to the forecast of Kazuhiko Togo, Moscow and Tokyo may conclude a peace treaty as early as June 2019. This is the fastest scenario. Negotiations between the parties are still preliminarily held in January 2019, and if they are successful, the agreement will be signed in the summer of that year, during Putin's visit to Japan at the GXNUMX summit. Then in the fall will be the ratification of the peace treaty in parliaments.
But there are a number of difficult issues that the parties must resolve. Therefore, the process of concluding a peace treaty may take place a little later. In this case, and this is the latest deadline, the signing of this important document will take place at the 2020 Olympics in Tokyo. But he wants this event to happen earlier. After 70 years have passed, it's time to finally negotiate.
It should be recalled that following the meeting on November 14, 2018 between Putin and Abe, the parties agreed to speed up the negotiation process on the basis of the 1956 Joint Soviet-Japanese Declaration. Then the USSR agreed to transfer to Japan a group of Habomai islands and the island of Shikotan. The document was even ratified, but later Japan, under US pressure, refused to implement it and began to insist on the return of Kunashir and Iturup.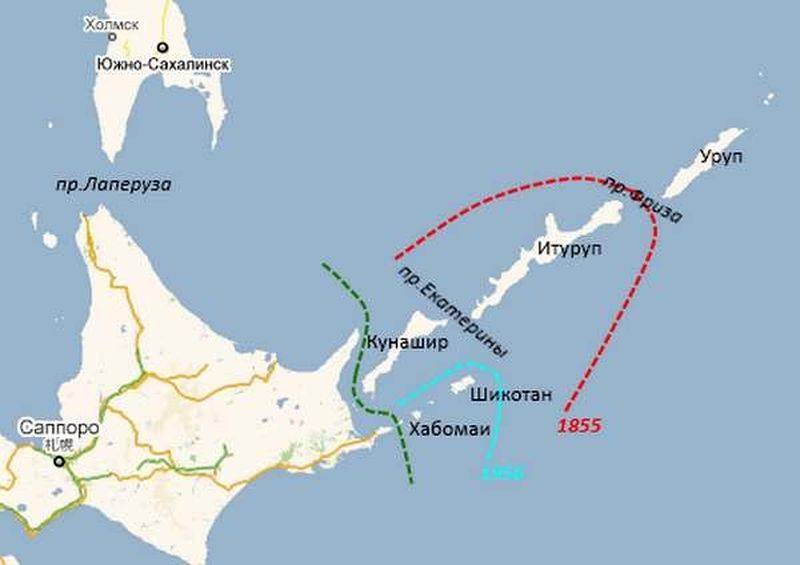 The thing is that the group of Habomai islands and the Shikotan island are located on the eastern side of the Kuril ridge and their presence in Japan would still not allow U.S. warships and submarines to freely enter the Sea of ​​Okhotsk to prevent the deployment of the surface and submarine fleet of the USSR. It is with this that all the hysteria about the "northern territories" is connected. The United States needed Japan to own Kunashir and Iturup. So soon we will find out whether Japan will agree to the proposal that the USSR made to it in 1956. It's not so long to wait. By the way, on this occasion, there has already been a surge of indignation in the nationalist environment of both countries.