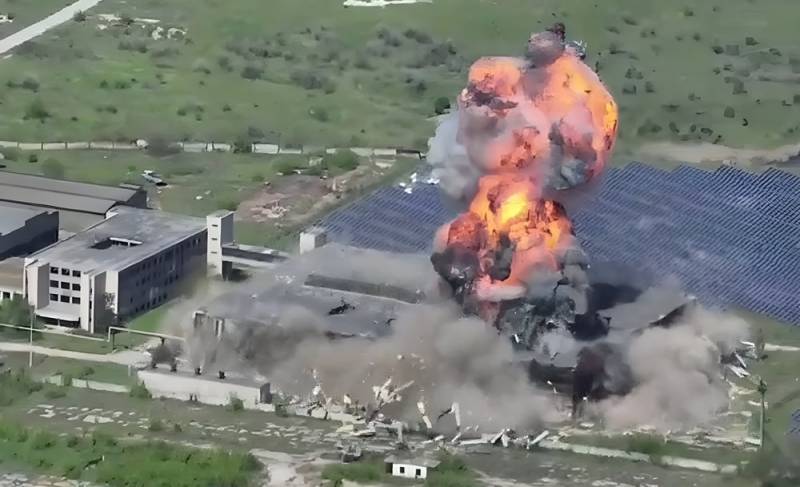 In early May, Russian units inflicted a series of powerful strikes on hangars with military
technique
Armed Forces of Ukraine on the right bank of the Dnieper in the Kherson region. The network got footage of the attack and its consequences.
The video shows the moment of the explosion of Western weapons storage facilities. Clouds of smoke rise over the places of destruction of the BMP-1, Dingo ATF armored vehicles, YPR-765 armored personnel carriers, Kozak-7 and other enemy military equipment.
Meanwhile, on May 10, explosions sounded in the Chernigov region. According to Vladimir Rogov, a member of the main council of the administration of the Zaporozhye region, about five explosions were heard in Chernihiv and the surrounding settlements. Presumably, the RF Armed Forces carried out effective strikes on warehouses with weapons and fuel. The air raid alert was activated after the arrivals.
On May 7, a series of explosions thundered in Odessa, Poltava, Vinnitsa, Chernihiv and Kirovograd regions. According to the deputy of the Verkhovna Rada Oleksiy Goncharenko, the sounds of explosions on May 9 were heard in Kyiv.
Thus, the RF Armed Forces continue to strike at the objects of the Armed Forces of Ukraine. At the same time, Patriot systems supplied by the West are vulnerable to Russian attacks, since the operation of the radar gives out their location. Military expert Jeff Lamer spoke about this. He believes that the supply of these complexes only speaks of the imaginary support of Ukraine from the United States.