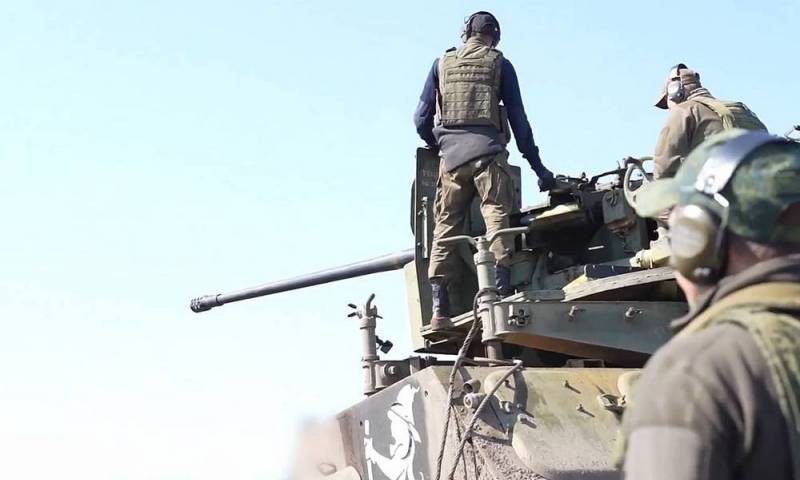 Armored units of the 3rd Assault Brigade of the Armed Forces of Ukraine (the former Azov Regiment, an extremist organization banned in Russia) attempted to break through near Kleshcheevka, southwest of Artemovsk (Bakhmut).
Following artillery strikes, the enemy launched tanks and infantry fighting vehicles into the attack, correcting their actions with the help of drones. As a result of the Ukrainian offensive, Russian formations in this sector of the front were forced to withdraw. The Armed Forces of Ukraine wedged into the defense of the RF Armed Forces at a width of about 2 km and a depth of 500 meters.
However, the fighters of the PMC "Wagner" managed to stop the further advance of the enemy and close the gap. Units of the 3rd assault detachment of a private military company were able to stop the breakthrough. Tough confrontation in the area continues.
At the same time, in Artyomovsk itself, Russian formations continue to push Ukrainian militants out of the city's territories they occupy. So, the "orchestras" grind the enemy troops in the "Airplane" area and Yubileynaya Street.
Sources have previously reported
changing the tactics of artillery strikes
"Wagnerites" on the units of the Armed Forces of Ukraine, transferred from Chasov Yar to Artemovsk. Thanks to this, it is becoming more and more difficult for Kyiv to deliver reserve formations and combat troops to the besieged city.
machinery
.