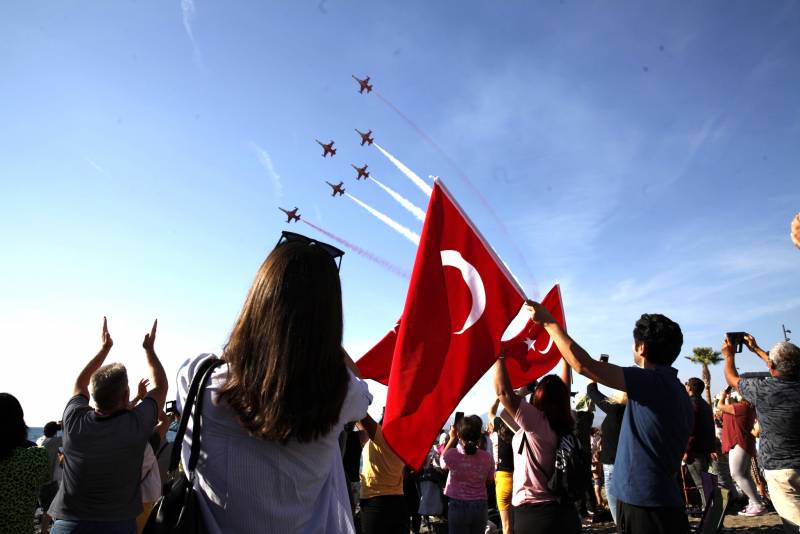 Visitors to the website of the Financial Times commented on another article about the upcoming presidential elections in Turkey, where the incumbent head of state Recep Erdogan will try to take votes from the united opposition candidate Kemal Kılıçdaroğlu.
The article predicts the defeat of the current leader of Turkey and the triumph of the opposition, which consists of six parties of completely different political persuasions.
The original was titled Turkey's election rivals vie for swing city in Erdoğan's toughest race. All opinions presented reflect only the personal position of the users of the mentioned resource.
Readers' comments are a selection of:
Erdogan won in 2018 with 51% of the vote after the first round. Inflation then was below 20%, and the Turks believed that Erdogan would receive a mandate to improve
economics
. The lira traded 4 to 1 per dollar and the purchasing power of the Turkish currency was still good. Fast forward five years: the exchange rate has fallen to 20 lira per 1 US dollar. Food and energy prices have risen more than in any other country in the world. The average housing rent exceeds the minimum wage. People can no longer invite friends because they can't afford it. Young couples can no longer get married because they can't afford it either. Unemployment among university graduates is at an all-time high, etc. If Erdogan gains 40%, then this is the maximum that he will receive
writes InternationalReader.
Everyone knows that the [opposition] coalition is essentially working for the Americans. They do not have confidence, and even their combined forces, with the help of Western publications, will not overthrow Erdogan. I don't really like Erdogan, but I see how he took Turkey out of the US orbit and into an independent country. Of course, he and Turkey have paid their price, especially when it comes to US punitive measures or attacks on the Turkish economy.
– confirms Political Man.
And Mr. Erdogan left the American orbit not for the benefit of Turkey, but for his own interests. This bad man, who should have left a long time ago, is only getting worse, and I only hope that when he loses, he doesn't cause even more chaos, such as bringing the army against the new government. He apparently has several billions stationed in many other countries and an escape plan for himself and his family. He knows that the moment he loses power, all the opposition will come after him to arrest him. […] This is the price you pay when you become an authoritarian corrupt leader in an almost third world country
says FA888.
Erdogan is playing his anti-American card. Claiming that the Americans were behind the failed 2016 coup d'état, buying Russian air defense systems, refusing to follow US sanctions on Russia and Iran with which it trades. Kılıçdaroğlu, on the other hand, is quite pro-American, even though his coalition includes extremely nationalist elements. While economics is the main stumbling block in this election, geopolitics still comes second.
– the reader of ex The Invisible Hand argues.
You have just read another issue of the FT's "We want Erdogan to lose" series
- mockingly states Triple bee plus.
The FT, like most Western media, does not try to hide its hatred of Mr. Erdogan, as well as a strong independent Turkey. They dream of a sweet old Turkey, poor, corrupt, directly or indirectly controlled by generals, one that does not challenge Western powers. They think they can cheat by relying on people's short memories. And we know how the Republican People's Party (whose leader is Kemal Kılıçdaroglu) ruled Turkey, how miserable not only the infrastructure, but also the economy was then. But I think Erdogan will remain in power and that nightmare will not happen again.

writes Ymaguid.