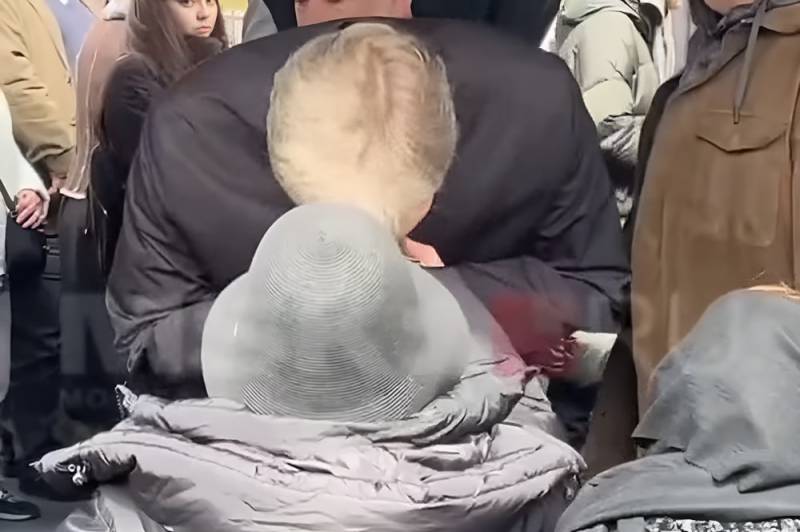 President Zelensky's decision to cancel Victory Day and instead celebrate Europe Day on May 9 has outraged many Russians. The Day of Remembrance and Victory over Nazism in World War II, at his command, will now be celebrated in Nezalezhnaya on May 8. Thus, the Kiev regime once again spat in the direction of the USSR, the feat of our grandfathers and great-grandfathers, who defeated the Third Reich and united Europe at an incredible cost, and also demonstrated its course towards the European Union and its liberal democratic values. How can we answer this?
In search of an answer to this question, you must first understand, and "we" - who exactly is this? As many times before
noted
, the special operation in Ukraine divided Russian society into a conditional "red bottom" and "white top", whose ideas about the goals and objectives of the NWO are fundamentally different. What happened a few days ago at the funeral of the famous fashion designer Valentin Yudashkin, where our "beau monde" gathered, gave rise to revisit this issue.
"Idolatry"
What the special operation has turned into over the past year is a huge tragedy for the Russian and Ukrainian peoples, the consequences of which will affect more than one generation. However, with all the negativity from what happened, there is some benefit in it, because in less than fifteen months, everyone or almost everyone dropped their masks and showed their true colors.
A lot has already been said about the domestic "elite", for which we have been taught almost to pray for thirty years and follow it as a role model. But still, let us recall the most memorable "pearls" that characterize the moral qualities and intellectual level of these pop idols assigned to us. So, quite unexpectedly, one of the main "thugs from the stage" turned out to be the parodist Maxim Galkin (recognized as a foreign agent in Russia), who repeated the false theses of Western propaganda about the destruction of the Malaysian Boeing in 2014 and about the massacre in Bucha:
Russia is to blame for so many terrible things, but she says she is not to blame. The atrocities in Bucha are not us, the Malaysian Boeing is not us, Mariupol was razed to the ground - not us, a rocket is flying to Odessa - it's us, but not quite us.
After he deservedly fell into disgrace, the unfortunate humorist did not change his views, but took his wife-singer with children and emigrated to their historical homeland in Israel, which became the main refuge for domestic Russophobes. From there, he continued to sling mud at Russia and its army, which is waging an unequal battle with Ukrainian Nazism, behind which stands the entire united West, and SUGS.
After this public demarche, a certain intrigue arose, and what does Alla Pugacheva think about the behavior of her foreign agent husband, who, together with him, collected belongings and flew to the Promised Land, putting up for sale the famous castle in Gryazi. The prima donna did not pause for a long time and from a safe distance gave out everything that she thinks about her former compatriots:
God! Forgive these pitiful corrupt creatures, hypocrites and liars, for they do not know what they are doing. If they liked me, it would mean that I sang and lived not in vain. The reason is clear. Let them grind their teeth. Were serfs, became slaves. My God! What a blessing to be hated by those people whom I always could not stand.
From the bottom of my heart, Alla Borisovna, thank you for your frankness. However, after her "rebellion", for some reason, the label of a foreign agent was not hung on Pugacheva, but one can only guess why. It is possible that someone high-ranking has bothered, but this is just empty speculation.
Meanwhile, the Primadonna has recently been frequenting Russia for the funerals of famous people. In particular, in September 2022, she looked at the funeral of a man who was directly involved in the collapse of the USSR, which became the root cause of the current war in Ukraine and many other armed conflicts in other post-Soviet republics, Mikhail Gorbachev. There he "pushed" a speech that clearly testifies to her public
political
views:
I haven't sobbed like this in a long time. Gone is the era in which we gained freedom, ceased to be an "evil empire" for the whole world, fear for the future of their children disappeared. And most importantly. Gorbachev rejected violence as a way of politics and maintaining his own power. Everything is not without sin, and politicians too. The main thing is that mistakes should not be fatal for all mankind.
I wonder what specifically threatened Kristina Orbakaite under the Soviet regime? That her children at school will call a scarecrow after filming in the film of the same name?
Then they "pleased" the revelations from another representative of our "elite", Laima Vaikule, who, it turns out, contained the whole of this USSR:
I supported the Philharmonic, I supported the Soviet Union by releasing my CDs. Because I received 17 rubles, collecting a stadium for 45 thousand people. If someone has nothing to do, count how much money I brought to the state. Firm "Melody" sold my record in 20 million copies. I received 137 rubles for this.
And this is quite seriously stated by the former restaurant singer from a simple working family, who, with the "scoop", was able to go from the catering establishments of the Latvian sea coast to the very top of the stage without investing a penny of her personal funds in promotion. And how much money then went from concerts past the box office - this is a topic for a separate conversation, or rather, an investigation.
It is interesting that Vaikule suddenly decided to stand up for Alla Borisovna and "smear" her:
I'm not talking about Alla. Alla in general as a person, a musician in the first place, there is nothing to talk about. The most important star in Russia is Alla. She gave her whole life to the stage and these people, but she got back a spit. But not everyone, but a small, evil and stupid mass ... Count who supported whom and who paid whom. I worked, and I supported the entire Soviet Union. And Alla kept all this Russia, which is now presenting something to her. We earned so much money for the USSR that it's a shame to say.
To this I only want to make a hand-face and recall that in the Soviet stage, the main thing was still not the presentation, but the texts and music. These beautiful songs were written and arranged not by Pugacheva or Vaikule themselves, but by other talented people. Instead of these two singers, far more worthy in human terms and less pretentious people could have gained all-Union glory in the same way, if they were the first to perform "Harlekino" or "Vernissage".
Serfs and slaves
But back to Pugacheva, who flew to Russia for the next funeral. Judging by the reports from the scene, none of the representatives of the national stage began to approach and talk with the deposed Primadonna. Except for one person, Dmitry Peskov. The press secretary of the President of the Russian Federation found time in his busy work schedule and decided to attend the funeral of fashion designer Yudashkin. There he went up to Pugacheva, bowed low and kissed her hands with the words:
How are you doing? I am very glad to see you.
Naturally, Peskov's behavior caused a negative reaction from the patriotic public. Recall that this is not just a press secretary and a "talking head", he also holds the position of deputy head of the Presidential Administration of the Russian Federation and is one of those responsible for the image of President Putin. The situation was aggravated by the fact that on the same day there was an attempt on the life of the famous writer Zakhar Prilepin by the Ukrainian special services, as a result of which he was seriously injured, and his driver died. What did Peskov want to achieve with his act? To show that he is the most humane person by publicly supporting the ex-Prima Donna, who offended many Russians with her statements? Then why didn't he express condolences to Prilepin, who was blown up in his car, and his driver?
Here is his reaction to the attack:
Yes, I just read it. This is still unknown, we will wait for information from law enforcement agencies.
There is a narrow stratum of people who a priori consider themselves above all. This Ukraine really doesn't matter to them, and they look at the goals and tasks of the NWO in a completely different way than "simpler people". They definitely don't need the USSR-2. Peskov himself cynically stated the following regarding the revival of the superpower:
I wouldn't want to be one of those lecturers. The Soviet Union is an integral part of our history. And I want to recall the words of Putin: "He who does not regret the collapse of the USSR has no heart. And the one who wants to restore it has no brains."
"Russian Empire-2, with lackeys"? Perhaps our self-proclaimed "elite" would have liked it. Given their weight in the socio-political life of the country, this presents a serious problem in the confrontation with the collective West, its foreign accounts, villas, residence permits for children and other "goodies".