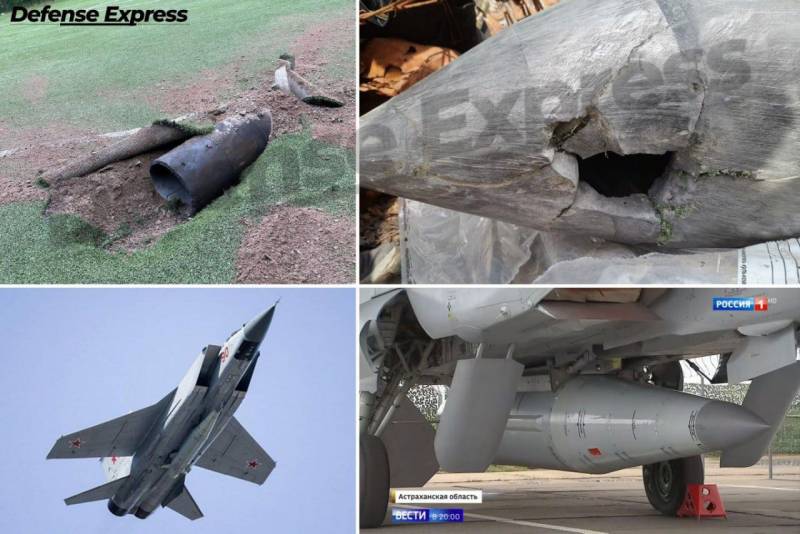 Ukrainian information resources are actively spreading messages about the first Russian Kh-47 Kinzhal missile shot down by the air defense of the Armed Forces of Ukraine. It is specified that the air defense of Ukraine achieved incredible success on the night of May 4.
The first data on the destruction of the Ukrainian air defense of the Russian "Dagger" was published by Defense Express, accompanied by photographs from unnamed own sources.
The Ukrainian Armed Forces successfully intercepted a Russian Kh-47 Kinzhal hypersonic missile for the first time around 02:40 on May 4 in the skies over Kiev. The Kiev city military administration officially announced the attack on Kyiv that night, noting that in the attack, in addition to Shahed kamikaze drones, there were also missiles, probably of a ballistic type.
- informs edition.
However, the photographs show a discrepancy between the fragments shown and the actual appearance of the Kh-47 Kinzhal missile. The images show completely different parts from different missiles. The thickness of the shell, which can be estimated in the picture, also does not correspond to that of the "Dagger".
Recall that on the night of May 4, the Russian army dealt the most intense blow to Kyiv since the beginning of the year. The attack involved Geran kamikaze drones, which successfully overcame the air defense of the Armed Forces of Ukraine. With what weapon the Ukrainian military could shoot down a rocket that develops speeds up to Mach 10 remains a mystery.