Local news agencies report interesting information from Ukraine. It turns out that the Ukrainian "siloviki" ministers have already decided how to divide the confiscated "Yanukovych money" correctly. Ukrainian "patriots" and representatives of the European visa-free regime are at a loss. They don't know how to react correctly, declare "help" or shout about "harass".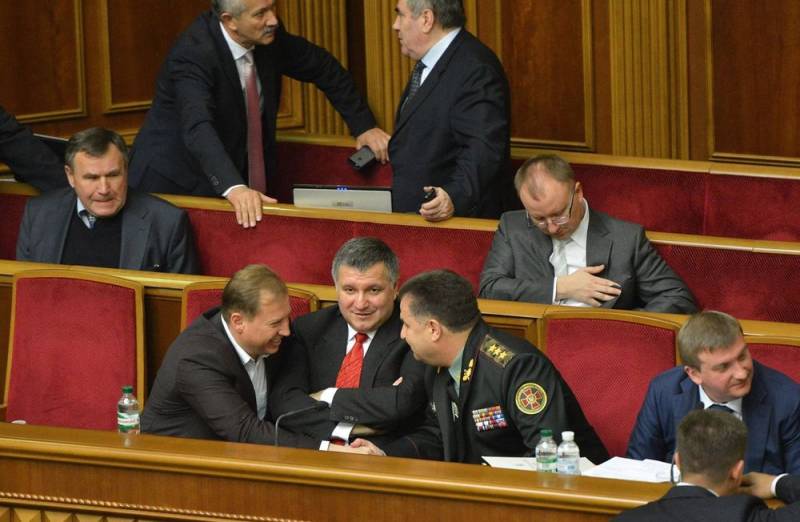 For understanding. We are talking about $ 268,8 million or UAH 7,5 billion, which were confiscated from Yanukovych in 2017. In Kiev, they still could not decide what to spend it on. And so they decided to "master" them simultaneously with the budget for 2019 as time is running out.
Everything turned out to be primitively simple. The two most powerful departments with the largest budgets, the Ministry of Defense and the Ministry of Internal Affairs, represented by Stepan Poltorak and Arsen Avakov, respectively, decided to redistribute these funds. And the creative process of distributing confiscated money was as follows.
On November 14, 2018, Poltorak and Avakov submitted their proposals to the Cabinet meeting on what to do with the special confiscate. By this term they call Yanukovych's money received "criminally" and confiscated in favor of the state. Although the process of proving that this money was obtained through criminal means raises big questions. But this has nothing to do with this topic.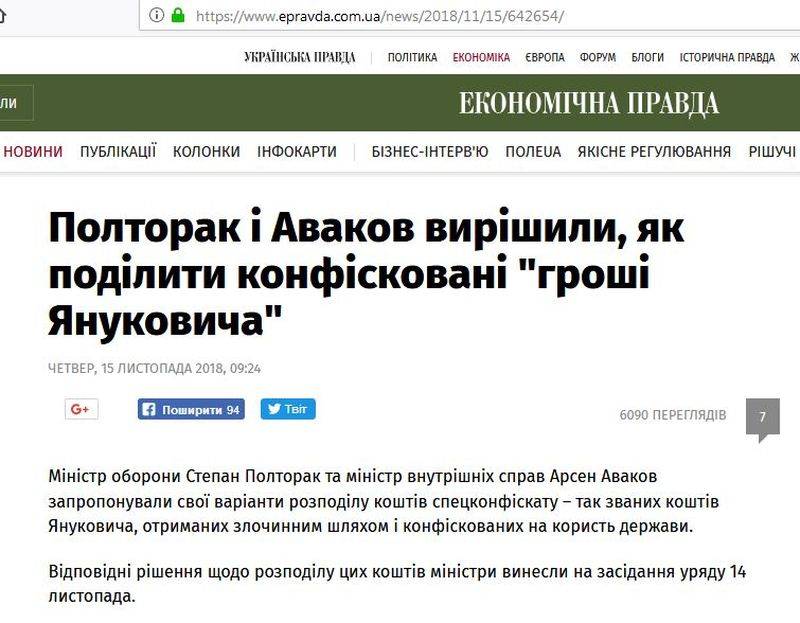 So, Poltorak wanted to send 4 billion UAH. for purchase and repair
equipment
and other weapons. Another 1 billion UAH. he decided to spend on the construction of military facilities. This is not surprising, because it shows that he has a good, healthy appetite, like a qualitatively growing breadth of the body.
Avakov's appetite was more moderate, it can even be called surprisingly modest and dietary. They say he began to play sports and can already pull himself up once on the crossbar, and not hang out like a sausage. So, Avakov proposed to send 2 billion UAH. State mortgage institution to provide housing for police under financial leasing. Another 125 million UAH he proposed that police and firefighters be allocated for the purchase of special vehicles. Well, 49 million UAH. offered to give "border guards" to purchase special equipment.
The remaining ministers, licking their lips, prudently refrained from the proposals. After that, the Ukrainian government, in the person of the best prime minister of "all times and peoples" Volodymyr Groysman, took a break. And the acting head of the Ministry of Finance, Oksana Markarova, said that no final decision was made, but both proposals (Poltorak and Avakov) were approved and included in the package that Groysman ordered to finalize within three days, so that the money, in the amount of 7,5, XNUMX billion UAH will be "mastered." What, in fact, few people doubted.
But another interesting question arises, or rather two. The thing is that initially, in 2017, it was not about 7,5 billion UAH. confiscated funds, but about 40 billion UAH. Feel the difference? Indeed, the "money of Yanukovych" meant not only the personal funds of the former president of Ukraine, but also the funds of his closest assistants and relatives. I wonder where the remaining 32,5 billion UAH. The answer can be given by the "guarantor of the nation" Petro Poroshenko, he knows exactly where he is doing them.