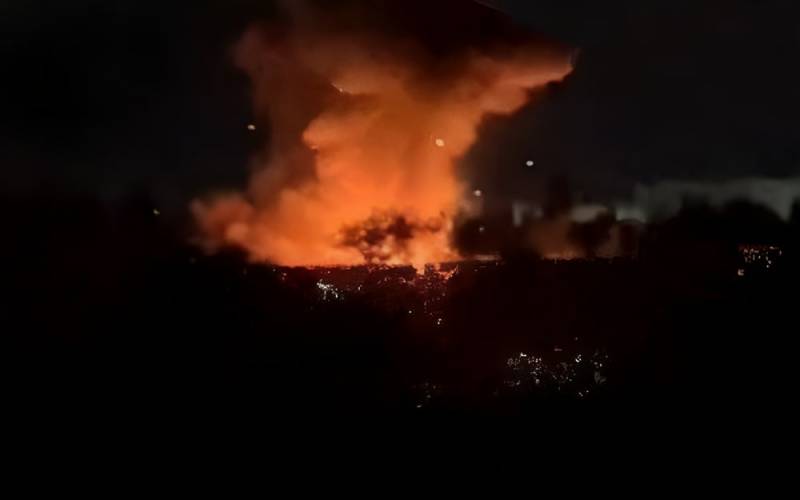 Last night in Ukraine turned out to be loud. An air raid alert was issued throughout the country. The reason for this was the strikes of the Russian army on the objects of the Armed Forces of Ukraine in Kyiv, Odessa and Zaporozhye. It is reported that cruise missiles and Geran unmanned aerial vehicles were used to hit targets.
One of the objects of attack by Russian weapons of destruction was the military academy in Odessa. The educational institution was attacked using the Geran UAV. Part of the drones hit the dormitory building where the military was quartered. According to Ukrainian publics, a total of eight explosions thundered in Odessa.
Another object hit by Russian missiles was the Arsenal plant, located in the capital of Ukraine. This enterprise is part of the military-industrial complex of the Kyiv regime, it produces products for the needs of the Armed Forces of Ukraine.
The Ukrainian air defense system tried to repel the attack. However, it was not possible to bring down the Russian missiles.
At the same time, air raid sirens also sounded in Kyiv, Cherkasy, Sumy, Chernihiv, Kirovograd, Dnepropetrovsk, Zaporozhye, Mykolaiv and Odessa regions.
It should be noted that the Russian Ministry of Defense has not yet reported on the results of a night attack on military facilities on the territory of Ukraine. However, with a high degree of probability it can be assumed that all goals were planned in advance.