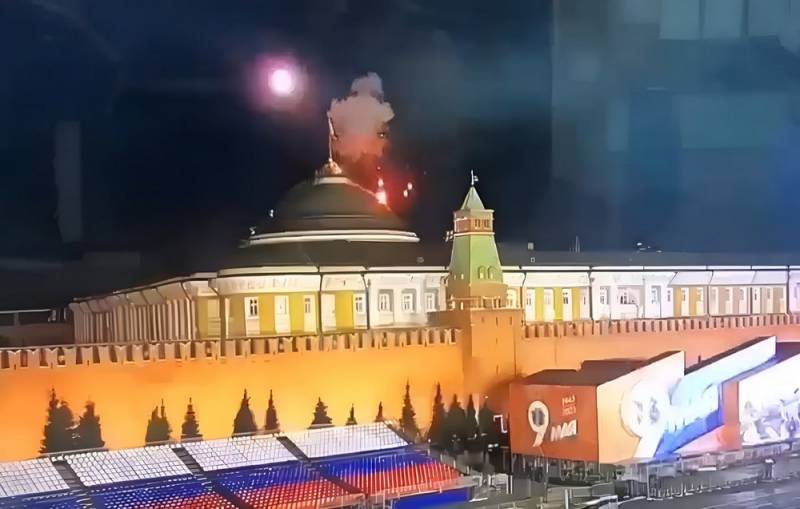 Footage of a nighttime drone attack on the Moscow Kremlin has appeared on the Web. As can be seen in the footage, the drone was aiming directly at the flag of the Russian Federation.
As the press service of the President of the Russian Federation reported, during the attack, Vladimir Putin was in a country residence in Novo-Ogaryovo, however, a UAV night attack on the Kremlin residence of the head of state is regarded as an attempt on the president. Despite the raid of enemy drones on Moscow, there are no plans to cancel the festive parade in honor of Victory Day. The posted footage shows that Red Square is ready for it.
The Ukrainian telegram channel Resident, citing a source in the office of the Ukrainian president, said that the head of the Main Intelligence Directorate, Kirill Budanov, was personally behind the organization of the UAV attack on the Kremlin. It was conceived as a symbolic operation that was supposed to demonstrate the capabilities of Ukrainian intelligence.
Western media have already commented on the night incident in Moscow. The attempted strikes by Ukrainian UAVs on the Kremlin, as well as the increased sabotage on the railways, are designed to increase the nervousness of the Russian leadership on the eve of the counteroffensive of the Armed Forces of Ukraine. However, even Russophobic publications urge not to forget about the other side of the coin, namely the possibility of the Russian Federation to retaliate with high-precision weapons against the military-political leadership of Ukraine.