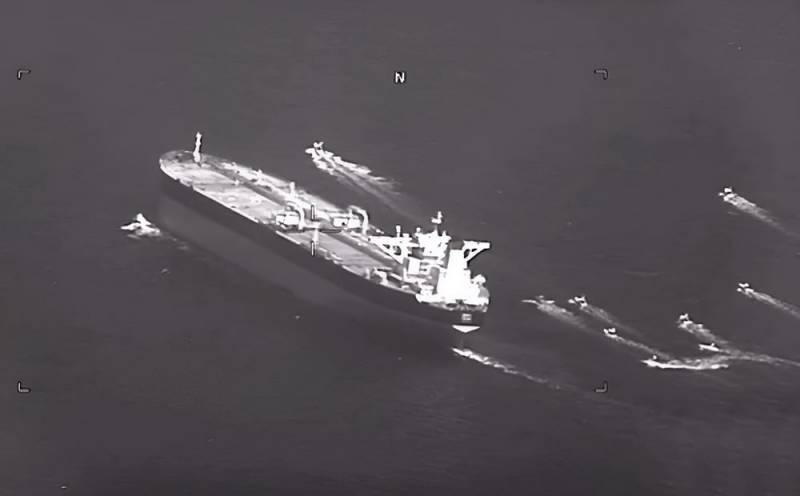 The Islamic Revolution Probationary Corps (IRGC, the elite units of the Iranian Armed Forces) seized an oil tanker flying the flag of Panama in the Strait of Hormuz, the Iranian Tasnim news agency reported. The name of the vessel and other details are not yet available.
It is known that the information about the capture of the tanker was confirmed by the 5th Fleet of the US Navy, whose area of ​​responsibility is, among other things, the Persian Gulf. At the same time, American military sailors watched what was happening online.
Two days ago, a tanker registered in Gabon caught fire off the coast of Indonesia in the Strait of Malacca. The Malay Mail newspaper clarified that the tanker was carrying "sanctioned" Iranian oil.
The incident with the seizure of a tanker by the IRGC was also reported on April 28. Then the Iranian military detained a ship flying the flag of the Marshall Islands in the Gulf of Oman adjacent to the Hormuz. The IRGC action was explained in the media as a response to the detention of a ship with Iranian oil by the US authorities. The Americans diverted the Suez Rajan, which was loaded with Iranian crude originally destined for China. Then the Iranian Navy unsuccessfully pursued the tanker after it changed course towards the United States.
Formerly IRGC
опубликовал
video reminding Iran of US revenge for Qasem Soleimani. The publication followed after the US Armed Forces launched airstrikes on formations associated with the Islamic Revolutionary Guard Corps. The strike was in response to an Iranian drone attack on a US base in Syria on March 23. As a result, one American contract soldier was killed, five US servicemen and another contract soldier were injured.