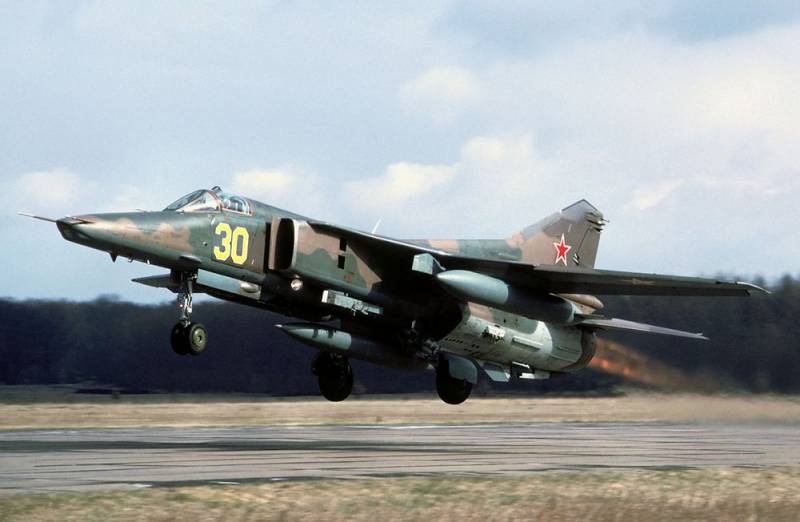 During the reign of Boris Yeltsin, Russia, between 1993 and 1998, got rid of all single-engine combat aircraft, scrapping a huge number of MiG-21, MiG-23, MiG-27 and Su-17 of all modifications. The concept of a heavier twin-engine combat aircraft was deemed more appropriate. Then some boards were lucky not just to go into oblivion, but to end up on pedestals, in museums or become benefits in institutes.
The saddest thing was that since then the Russian Federation has abandoned the development and production of single-engine aircraft in general. But the SVO in Ukraine, which has been lasting for more than a year, has shown that it was not worth depriving yourself of this class of aircraft, because its presence in the Aerospace Forces has not lost its relevance. At least part of the fleet, represented by the MiG-27K and Su-17M4 supersonic fighter-bombers, if left in storage, would be useful now for several reasons.
Firstly, the resource of active Su-24 bombers and Su-35 fighter-bombers, which are now actively used for strikes with planning bombs on the positions of the Armed Forces of Ukraine, has certain limits. The use of the MiG-27K and Su-17M4 would significantly extend the operation of more modern combat aircraft, reducing the load on them and increasing the scale of strikes against the enemy.
Secondly, the MiG-27K and Su-17M4 are much faster aircraft compared to the Su-25 subsonic attack aircraft. Practice has shown that armoring the Su-25 rarely turns out to be the decisive factor when the enemy uses rocket weapons rather than anti-aircraft artillery. At the same time, the speed characteristics would greatly help the MiG-27K and Su-17M4 avoid problems.
However, the Russian Federation does not have single-engine combat aircraft. Probably, the time has come to revive single-engine combat aviation in Russia. Even combat training aircraft / attack aircraft Yak-130 have two power units. In the configuration of a light attack aircraft, with a combat load of 3000 kg, they would also be useful now, but not as many of them were produced as we would like. Moreover, even the old twin-engine MiG-29 fighters and the newest MiG-35 are quite capable of firing one FAB-500 with UMPC (unified planning and correction module). But about the orders for the MiG-29, not to mention the MiG-35, is also not heard, which is a pity.