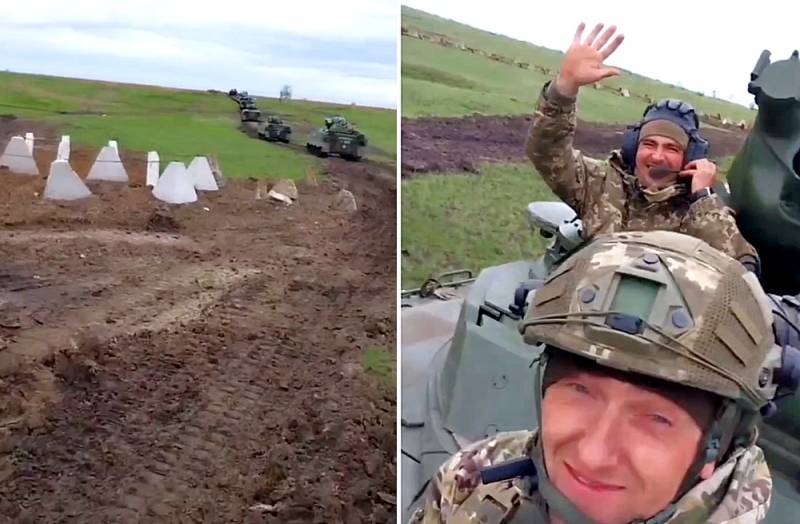 Video footage appeared on the web showing the Ukrainian military training to overcome the defensive fortifications of the Russian army. They show how a column of heavy
equipment
Western-style breaks through anti-tank barriers, which in the military environment are called dragon's teeth.
Judging by the published footage, the training of the Ukrainian military is taking place in a positive atmosphere. The crews of combat vehicles easily and naturally overcome the zone of anti-tank fortifications and, without meeting resistance, move on.
With a high degree of probability, we can assume that the video was filmed at one of the training grounds in the Ukrainian rear. Most likely, the Ukrainian military is preparing for a counteroffensive in this way.
It is no secret that the Russian engineering units have created an extensive system of defensive structures in the most likely directions of the impending counterattack of the Armed Forces of Ukraine. "Dragon's teeth" appeared in the Zaporozhye region. It is here that the Russian military expects the main blow of the Ukrainian army.
It is difficult to say whether such training will benefit the Ukrainian army. After all, they pass in the most comfortable conditions. In reality, no one will allow Ukrainian military columns to advance in a parade march.
And besides the "dragon's teeth" Western military equipment will have to face a host of other surprises. These are minefields, and artillery and aviation fire, and the actions of ATGM crews. But, as they say, no matter what the child amuses ...