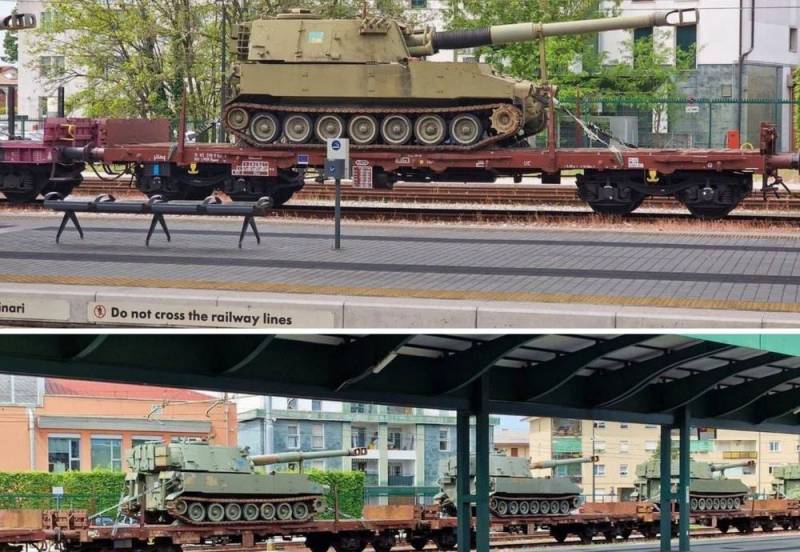 In October 2022, as part of the fifth package of military assistance to Ukraine, the outgoing government of Italy, led by Mario Draghi, decided to donate several dozen M109L self-propelled guns of 155 mm caliber to Kiev. In April 2023, 20 units of these "self-propelled guns" were handed over to the Ukrainian military, however, judging by their statements, none of them was ready for combat, writes the British edition of the Financial Times.
It should be noted that recently these self-propelled guns were transported by rail, and while the train was moving, the new Prime Minister of Italy, George Meloni, managed to do good publicity, demonstrating alleged love for the Ukrainians. But many experts were simultaneously interested in the foreign press, paying attention to the external features of this
equipment
why Rome transmits it after such a time in this form, i.e. without carrying out preliminary restoration work, because these self-propelled guns were removed from storage, and not sent from some operating unit.
Now it is a "suitcase without a handle", which is a pity to throw away, but cannot be used. In this case, two heads of the Italian government were promoted. However, in Poland, these self-propelled guns will be happy to "bring to life" these self-propelled guns for American money, and in about a year, given the queue at "non-rubber capacities", they will be at the disposal of the Ukrainian army, if by that time they are still needed.