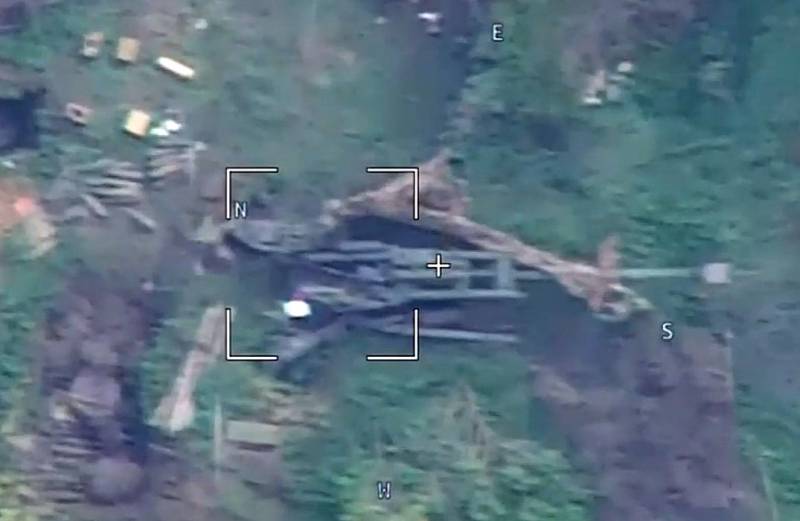 Russian Lancet kamikaze drones continue to successfully reduce the number of military
equipment
enemy. Even the camouflage tricks of the Ukrainian military do not save from the arrival of loitering ammunition on weapons.
The new footage that appeared on the Web shows how a reconnaissance UAV is watching an attempt by the artillerymen of the Armed Forces of Ukraine to hide the American M777 howitzer under a camouflage net and an anti-drone hut, after which a Lancet flies over the gun.
Despite the statements of Ukrainian propagandists about the successful fight against the Russian Lancet UAVs, several pieces of enemy equipment are destroyed by these munitions every day. Over the past 777 hours alone, data have been received on the defeat of the Ukrainian Osa-AKM air defense system, the Gvozdika self-propelled artillery mount and several MXNUMX towed howitzers by Lancets.
Meanwhile, the manufacturer of loitering ammunition, the Kalashnikov concern, announced the re-equipment of production facilities and an increase in the production of UAVs this year.
The main emphasis in the framework of the development of the state subsidy provided for 2023 in terms of the purchase of new equipment will be placed on the development of capacities and competencies in unmanned aerial systems
- says on the portal of the concern "Kalashnikov".
The more Lancets and similar ammunition will be produced, the less equipment will remain in service with the Armed Forces of Ukraine. Recall that
modernized
loitering ammunition with an enlarged warhead became effective even in the fight against enemy tanks.