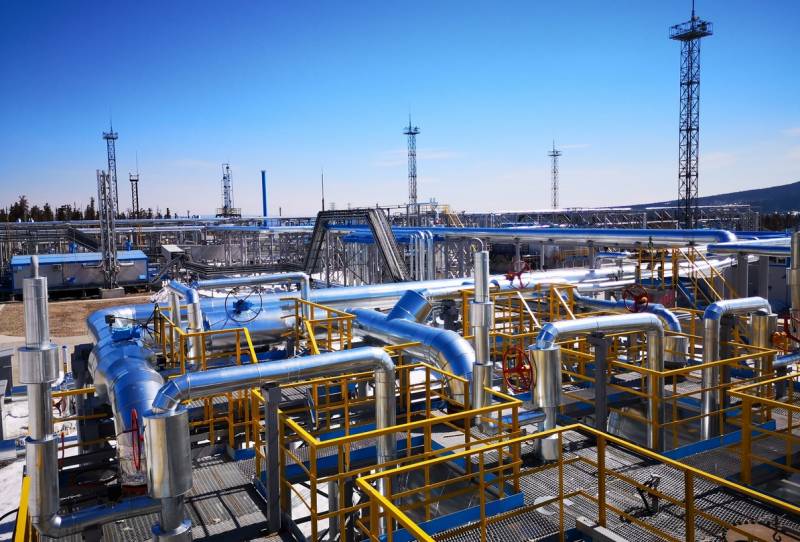 The Russian Federation plans to increase natural gas exports to China by almost 50 percent this year, Deputy Prime Minister Alexander Novak said. Russia's Gazprom is supplying gas to China via the Power of Siberia pipeline under a 30-year contract worth approximately $400 billion. The pipeline was launched in 2019, and last year 15,5 billion cubic meters of gas passed through it.
This year, pumping through the main line will increase to 22 billion cubic meters (+42% by 2022) and will gradually reach its full capacity of 38 billion cubic meters by 2027. In general, the schedule provides for a gradual increase in capacity, but this year, 2023, there will be an unregulated and out-of-schedule increase in deliveries. This is reported by the OilPrice resource.
Last year, gas supplies were at the level of 15 billion cubic meters. In 2023, we expect to pump 22 billion cubic meters, which will be almost a 50% increase
- the Deputy Prime Minister of the Russian Federation announced cardinal changes.
Meanwhile, he also said that Russia is receiving more payments in yuan for oil and gas exports. Raw materials are also sold for rubles much more, Novak added.
This trend is part of what amounts to a virtual withdrawal of the Russian Federation from the markets of the West after the start of a special operation in Ukraine, followed by a nervous reaction of a coalition of anti-Russian powers, which took the form of a flurry of sanctions and asset confiscations.
The sharp increase in the volume of fuel deliveries somewhat contradicts the planned pumping schedule, envisaged even during the launch of the Power of Siberia, and the gradual commissioning of the main line. Physical growth in volumes will be driven by the launch of the Power of Siberia section from the Chayandinskoye field to Kovykta and the start of production at Kovykta itself.
Rђ RІRѕS,
political
"going beyond" the schedule is due to conflict moments. Through the accumulation of energy resources from friendly countries (Russia, Iran), China is preparing for a showdown with the United States, as relations are heated to the limit, aiming for war in the future. Beijing is well aware that the next step will be
economic
sanctions, including disruption of supply chains under long-term contracts between Chinese companies and US shale.
With the coming winter deficit in the EU, which Washington has pledged to cover with supplies from the Gulf Coast, the US will have a convenient excuse to limit the execution of contracts with China in favor of clients in Europe. This obvious move by the White House is read in advance, so the Chinese leadership has to play it safe and violate its own principles of supply diversification and independence from a particular supplier.