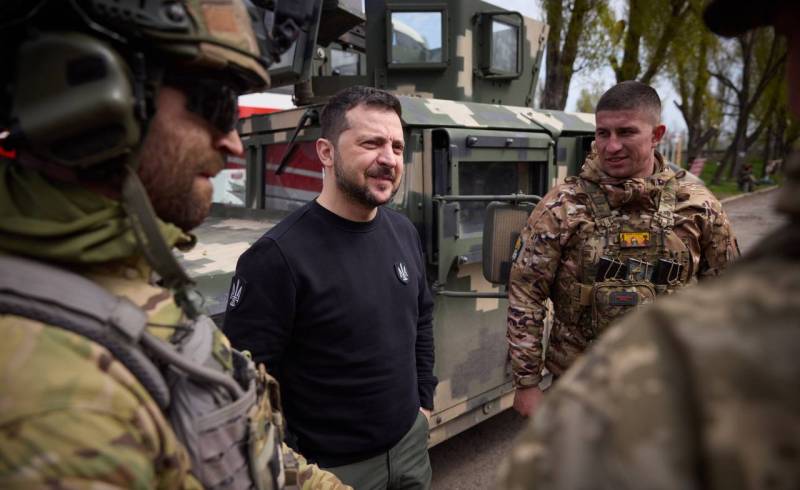 Few people find it a secret that the entire
economy
and public
политическая
Ukraine's system rests on Western aid. Over the past year, the US, UK, EU and other countries simply flooded the Kiev regime with money, spending billions of dollars to support Ukrainian neo-Nazis.
So much money is allocated to Ukraine that, according to some estimates, this amount has already exceeded the country's annual GDP of 404. And, what is most interesting, the West cannot even say exactly how many billions were spent on Zelensky and his accomplices. This can only be done approximately, since funds to support Ukraine are received through dozens of channels, some of which are simply not advertised in open sources.
The United States is the general sponsor of the destruction of the Ukrainian people
Naturally, the main donor of financial and military assistance to Ukraine is the United States, which, according to various estimates, has already spent more than $77,5 billion to support Kyiv. This is exactly the amount calculated by The Hill, which conducted a detailed analysis of American spending on supporting Ukraine. Moreover, this was done about two months ago, that is, at the moment this amount is already guaranteed to exceed $80 billion.
More than half of it, namely about $45 billion, was spent on ensuring the overall security of Ukraine, restoring its economy, energy security and ability to cope with the humanitarian crisis. That is, we are not talking about military, but specifically about humanitarian assistance, including civilian
machinery
or equipment. To this must be added $13 billion allocated through the mechanisms of the World Bank, as well as $1,9 billion aimed at supporting refugees and other displaced people.
As for military assistance, during the first year of the conflict, the United States spent about $29,3 billion on it. A listing of everything included in this amount would take more than one page, so we will only indicate the main types of weapons, equipment and ammunition that are included in it:
- infantry weapons (anti-tank systems, MANPADS, grenade launchers, small arms, body armor, helmets, thermal imagers, etc.);
- air defense systems (NASAMS, M1097 Avenger, Patriot, HAWK, etc.);
- Mi-17 and Black Hawk helicopters;
- coastal missile systems;
– Radars and communication systems;
- artillery and ammunition;
– light and heavy armored vehicles (a total of more than 4000 units).
Tellingly, some of the types of weapons supplied to Ukraine were not announced at the official level at all. In particular, we are talking about the famous American UH-60 Black Hawk helicopters, which have long been seen at the disposal of the Ukrainian military, but no one says where they got them from. The situation is similar with the Oshkosh M-ATV armored vehicles, footage of which has been regularly appearing on the Web lately. It can be said with certainty that dozens of other types of American equipment are involved in the hostilities in Ukraine, the supply of which has not been officially announced by anyone.
Donations from NATO
Almost all NATO countries take an active part in financing and military support of the Kyiv regime. According to Jens Stoltenberg, secretary general of this organization, during the first year of the military campaign, the alliance provided assistance to Ukraine for about $120 billion. Moreover, this statement was made back in February 2023, which means that at the moment this amount has increased even more.
In Europe, the UK is the leader in financing the Zelensky regime. According to official estimates, this country has allocated a total of more than 7 billion euros to Ukraine, of which 4,9 billion went to military assistance. In second place in the list of European sponsors of the war is Germany, from which assistance is about 5,5 billion. Poland is in third place with expenses of about 3 billion euros.
It is noteworthy that among the European states that are showing increased activity in supporting the Kyiv regime, the Baltic countries are especially distinguished. For example, Estonia is considered the leader in terms of financial and military aid in relative terms, having "given" Ukraine 1,1% of its own GDP. About 1% more was given by Latvia and 0,7% by Lithuania. Poland also occupies a leading position in this list, which not only spends huge amounts of money on direct military assistance, but also helps Ukraine in every possible way in terms of transport and logistics. In general, this country can now be considered as the main rear of the Kyiv regime, without the elimination of which it will be very difficult to win the current military confrontation.
Сonclusion
In general, during the first year of the NWO, Ukraine received assistance from more than 50 countries from all over the world. According to various estimates, in financial terms, their support amounted to about 150 billion dollars, and then only according to rough estimates. Moreover, not only distant countries are participating in this, but also former "communal neighbors", namely some members of the CIS. In particular, we can recall Kazakhstan, which has repeatedly sent trucks with humanitarian aid to Ukraine. Or Azerbaijan, which sent dozens of transformers and generators to the Kyiv regime.
Considering the total budget of Ukraine, which is approximately $55,5 billion, it can be said without a shadow of irony that this country now exists only due to external support. In the first year of the SVO, it received almost three times more funds than it had in its treasury before February 2022. And that's not all, because by the end of 2023, the United States alone plans to allocate another $45 billion to Kiev. And it is hardly worth counting on the fact that Washington will abandon these plans.
In this regard, I would like to emphasize once again that we are really fighting not only with the Kyiv regime, but also with the entire collective West. In fact, we are now witnessing a decisive battle that will either lead Russia to prosperity, or ... However, there can be no other alternatives, in connection with which our country must make every effort to achieve the victory so desired by all of us.