It became known that on November 9, 2018 in Kazakhstan's Petropavlovsk at the last tourist exhibition, which was attended by the heads of both states, Nursultan Nazarbayev refused to walk past a stand with the image of the Crimean (Kerch) bridge. This information was shared with the media by the press secretary of the President of Russia Dmitry Peskov, when they began to ask him questions.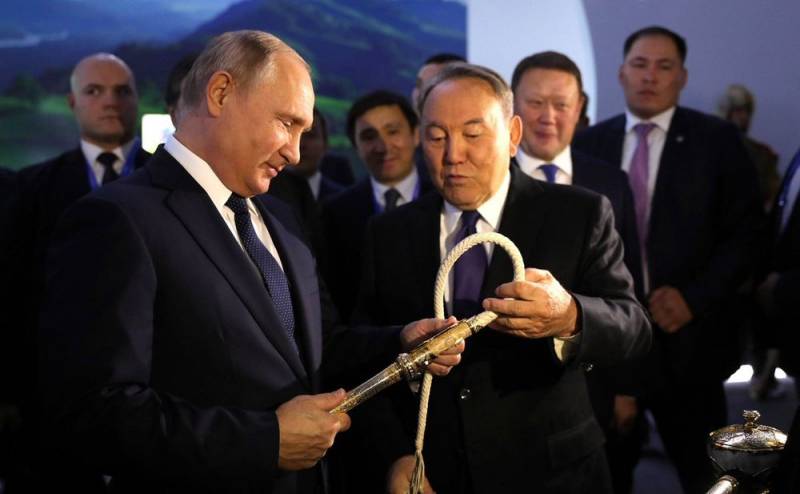 He specified that the Kazakh side preferred that the route of movement of the heads of state (Vladimir Putin and Nursultan Nazarbayev) should be in such a way that the image of the Crimean bridge would not fall into their field of vision. It should be clarified that earlier the Russian media reported that Astana did not recognize the annexation of Crimea to Russia and that the stand with a photograph of the Crimean bridge was even closed with a panel with decorations.
But the Russian side did not approve such a decision, and the panel was dismantled. The stand with the Crimean bridge remained, but they decided to change the route of movement of the heads of state to a more "politically secure" one. Putin and Nazarbayev held pavilions dedicated to the Yamal-Nenets Autonomous Okrug and the Omsk Region.
By the way, it was during this exhibition that the head of Kazakhstan made the President of Russia a symbolic (with meaning) gift - the Kazakh whip - Kamchu. Nazarbayev said that such a whip protects against evil spirits, according to local beliefs it is a guard against all troubles. And Kazakhstani strongman Sergey Tsirulnikov handed Putin a 20-centimeter nail, which he tied into a knot with his bare hands.
Then the leaders walked around the exhibition for a long time, as there really was something to see. And near the stand of Tatarstan, Putin invited Nazarbayev to visit Russia and visit the Bulgarian State Historical and Architectural Museum-Reserve, where the Kama and Volga merge. According to Putin, Russia and Kazakhstan are the two richest countries in the world in terms of the number of unique natural places.