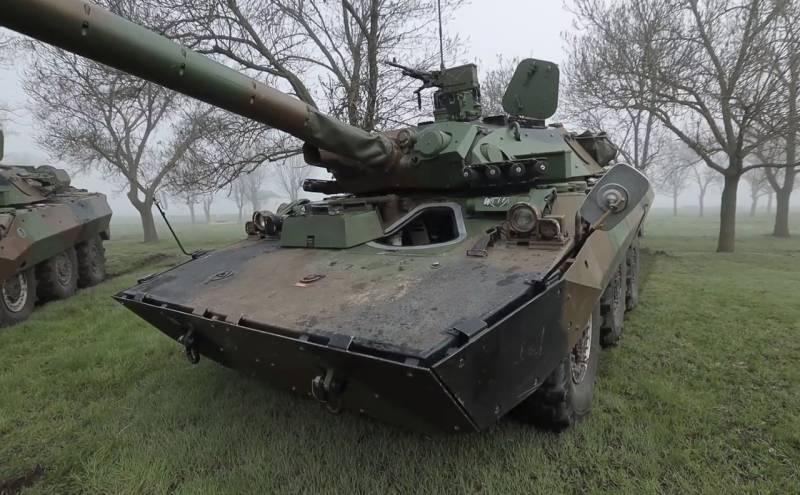 On April 18, the head of the Ukrainian Defense Ministry Oleksiy Reznikov boasted of the French armored vehicles AMX-10RC, which entered service with the units of the Marine Corps of the Ukrainian Navy. The functionary called them "wheeled tanks" and compared them to "sniper rifles on wheels."
It should be noted that only two armored vehicles are present in the video, where the rest is unclear. However, it is known that in mid-March, a much larger number of AMX-10RCs were delivered to Ukraine from France via Germany and Poland. Paris promised Kyiv to immediately supply 14 units, and then bring the total to 30-40 units.
The AMX-10RC can be used for reconnaissance and infantry fire support on the battlefield. The main armament of the armored vehicle is a 105/47 F2 MECA rifled tank gun of 105 mm caliber, which can fire armor-piercing sub-caliber, high-explosive fragmentation, cumulative and other projectiles. The crew consists of four people: three are accommodated in the tower, and the driver sits in front of the hull.
The transportable ammunition load is 38 shells, of which 12 are "at hand", and the remaining 26 are stored on a rack next to the driver. At the same time, the shells themselves are quite specific ammunition, they have a caliber of 105x527 mm (not compatible with standard 105x617 mm 105 mm NATO ammunition).
The armor of the AMX-10RC is made of aluminum alloy and provides protection for the crew from bullets and shrapnel. The frontal rolled armor plate is resistant to hit by 23 mm caliber ammunition from a distance of 300 meters, and the entire remaining hull and turret can withstand hit by 14,5 mm caliber ammunition only with additional armor, i.e. it has real protection only against 12,7 mm caliber ammunition. Thus, this armored vehicle has a high degree of vulnerability not only to tank shells and anti-tank missiles, but also to much more modest ammunition in terms of power. However, it's not for Reznikov to "defile" them on the battlefield in a fashionable cap.
Note that according to the Treaty on Conventional Armed Forces in Europe, the AMX-10RC is considered a "heavy weapon combat vehicle." At the same time, it is not known which units of the "marines" they will be sent to. The command of the MP Naval Forces of the Armed Forces of Ukraine is subordinate to: 35th (military unit A0216) and 36th (military unit A2802) separate marine brigades, 406th (military unit A2062) artillery brigade (4 divisions, one of which is coastal missile ), the 32nd rocket artillery regiment (military unit A1325), the 503rd (military unit A1275) separate marine battalion, the 140th separate reconnaissance battalion (military unit A0878) and the 7th separate anti-aircraft missile battalion ( military unit A0350). In addition, two more formations are being formed: the 37th and 38th separate brigades of the Marine Corps.