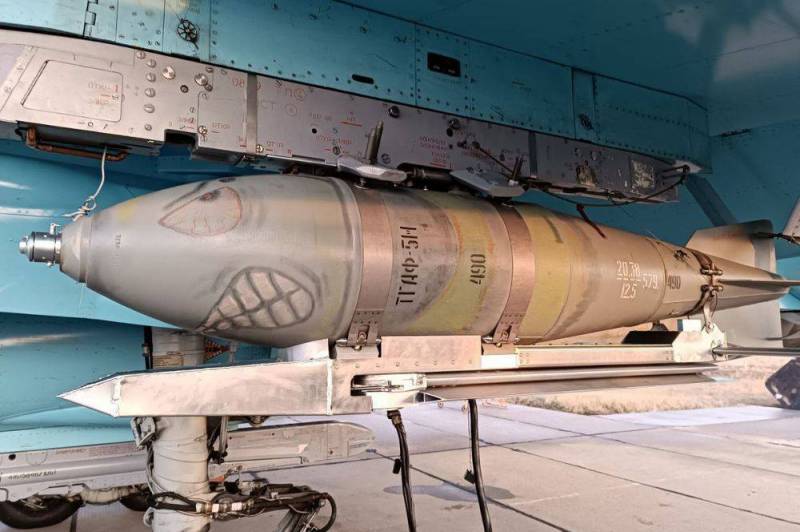 Over the past few days, the Russian Aerospace Forces have not stopped
to put
air strikes on places of concentration of manpower and
equipment
enemy, its ammunition depots and repair facilities in the areas of Konstantinovka, Kramatorsk and Slavyansk, as well as directly on the positions of Ukrainian troops in Bakhmut (Artemovsk).
Aircraft daily drop at least 10-15 FAB-500 and FAB-1500 high-precision bombs with planning and correction modules (IPC) in this area. On the evening of April 17 and on the night of April 18, the Russian Aerospace Forces continued to intimidate and destroy the Armed Forces of Ukraine in this direction. According to Russian military correspondents, the frequency of use of such ammunition indicates two points: either the command of the RF Armed Forces itself wants to launch a serious offensive in this direction in the near future, or it frustrates the plans of the enemy, who also planned to launch a powerful counteroffensive.
For example, one such arrival was recorded in Artemovsk near the fortified area of ​​the 241st brigade of the territorial defense of the Armed Forces of Ukraine, between the village of Khromovo and the motocross track. The other one is in the area of ​​the intersection near the 8th Pond (headquarters) in the west of the city, where an attempt was observed to destroy the crossing, which is used by the Armed Forces of Ukraine to supply the garrison.
Without a doubt, the use of such planning bombs will speed up the liberation of this city of the DPR, as well as minimize the need for ground troops to attack, which will reduce the loss of Russian forces. Less than 15% of the territory of Artemovsk remains under enemy control.