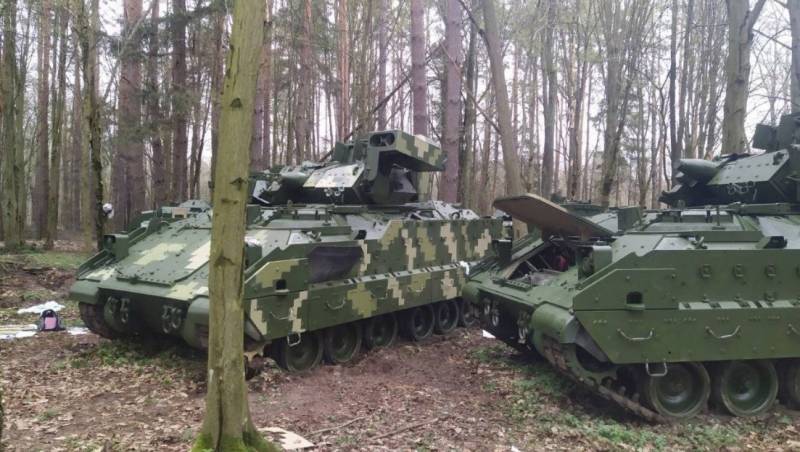 The American BMP M2 Bradley ODS-SA, delivered to Ukraine, changed the usual desert camouflage to the pixel coloring of the Armed Forces of Ukraine and received the corresponding signs of quick identification in the form of crosses. The first photos of armored vehicles repainted in accordance with Ukrainian realities appeared on the Web.
Earlier it was reported that about 50 Bradley infantry fighting vehicles in the ODS (Operation Desert Storm - Desert Storm) modification, created for military operations in the deserts of Iraq, were sent from the United States to Ukraine. The first Bradley ODS-SA seen in Ukraine had the usual sandy coloration, which stands out against the background of the terrain in the NWO zone.
Obviously, the Armed Forces of Ukraine continue to accumulate Western
machinery
and prepare it for a future counteroffensive. Spotted in Romania last week
echelon
with Turkish armored vehicles Otokar Cobra II, going to the Ukrainian borders. And on Sunday, eyewitnesses in the Czech Republic drew attention to platforms with Italian M109L howitzers intended for the Armed Forces of Ukraine.
According to a Newsweek publication, the start of a large offensive by the Armed Forces of Ukraine is scheduled for April 30. By this time, the United States and allies plan to prepare 9 Ukrainian brigades, fully equipped with NATO-style equipment and weapons.