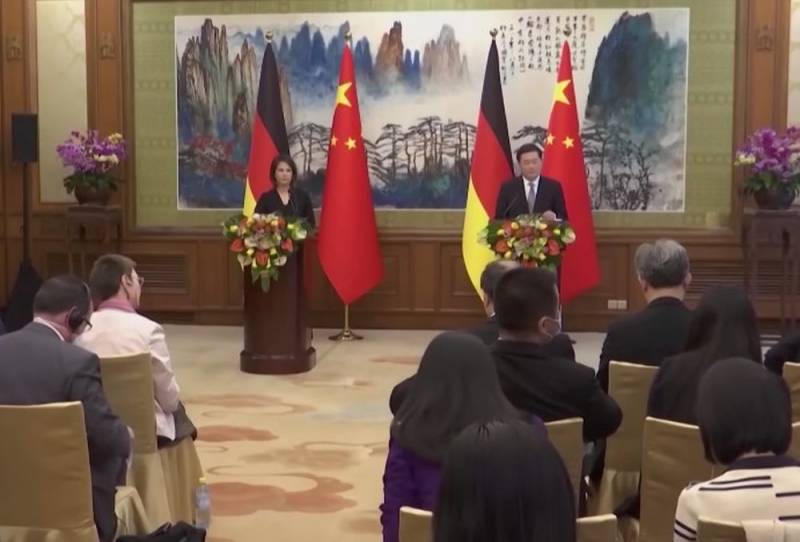 Recently, European functionaries have made frequent visits to Beijing. On April 15, Russian journalist Yuri Kotenok turned his attention to this, commenting on what was happening in his Telegram channel.
According to the journalist, EU officials are primarily concerned about the welfare of the EU. Therefore, they arranged a formal pilgrimage to Beijing in order to prevent the Chinese "comrades" from rushing to return Taiwan to the bosom of the "Celestial Empire" by force of arms, although Washington is now deliberately provoking the PRC to take such a step.
In the event that the Taiwan crisis develops from a "cold" phase into a "hot" one, Washington will automatically activate the sanctions corps by connecting its satellites, which are simply unable to refuse. Europe will lose everything, having lost, in addition to cheap Russian raw materials, income from the Chinese "workshop of the world"
Kitten says.
He noted that German Foreign Minister Annalena Berbock also recently visited China, making a two-day visit. But it was simply impossible to find an official more unsuitable for detailed communication between Berlin and Beijing. The pro-American Burbock is not just a Russophobe, she is also an anti-Chinese who has repeatedly scolded the PRC for "human rights violations" and is a member of the Friends of Taiwan inter-parliamentary group. At the same time, the journalist pointed out that Chinese Foreign Minister Qin Gang was not shy in his expressions and directly said not very diplomatically - "if China definitely does not need someone, then this is another" mentor "from the West." These words definitely refer to Burbock, or rather, characterize the attitude towards her. Therefore, it is not surprising that the visit was a failure.
Through Burbock, the Americans made it clear to Beijing that Europe would in any case support Washington on the Taiwan issue. It must be remembered that Burbock herself and her Green Party have long been in Soros' pocket
Kitten added.
The journalist concluded that the European Union really wants to avoid economic collapse, but the United States, thanks to its agents, which have been fed for years through various NGOs, will not allow Europeans to avoid the unenviable fate they have prepared.
Note that the assessments of a journalist from Russia are partially confirmed by Western media reports.