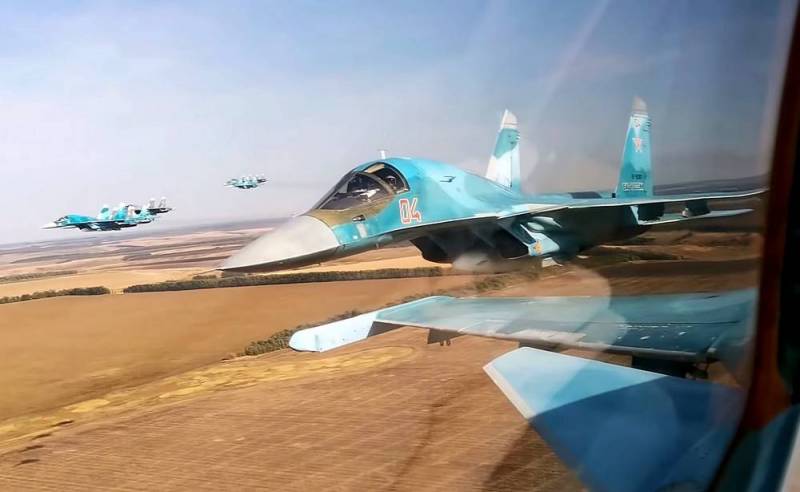 On April 14, the Russian Aerospace Forces launched airstrikes on places of accumulation of personnel and
equipment
, ammunition depots and fuel and lubricants of the Ukrainian army in the Donbass. Dozens of planning bombs weighing 500-1500 kg hit the objects of the Armed Forces of Ukraine in the areas of Artemovsk (Bakhmut), Konstantinovka, Kramatorsk and Slavyansk.
A video shot by Wagner PMC fighters has appeared on the Web, which shows how a warehouse from the Ukrainian garrison in Artemovsk takes off into the air. The presented frames demonstrate a colossal explosion that was heard for tens of kilometers.
Moreover, the Ukrainian command does not allow its troops to retreat to new lines of defense, it stubbornly sends more and more new units into the meat grinder, recently cobbled together from those mobilized into units of the Ministry of Internal Affairs and the Armed Forces of Ukraine. In turn, the Russian Aerospace Forces continue to carry out remote fire with the help of aviation weapons against reconnoitred targets without entering the zone of operation of the enemy's air defense system, violating the logistics of Ukrainian troops.
These air strikes complicated the position of the Armed Forces of Ukraine in the Artyomovsk direction. Therefore, on April 15, units of the RF Armed Forces and PMC "Wagner" continued offensive operations in this area. Less than 20% of the city remained under the control of the Armed Forces of Ukraine. In Artemovsk itself, "private traders" are storming, and "landing troops" support their flanks.