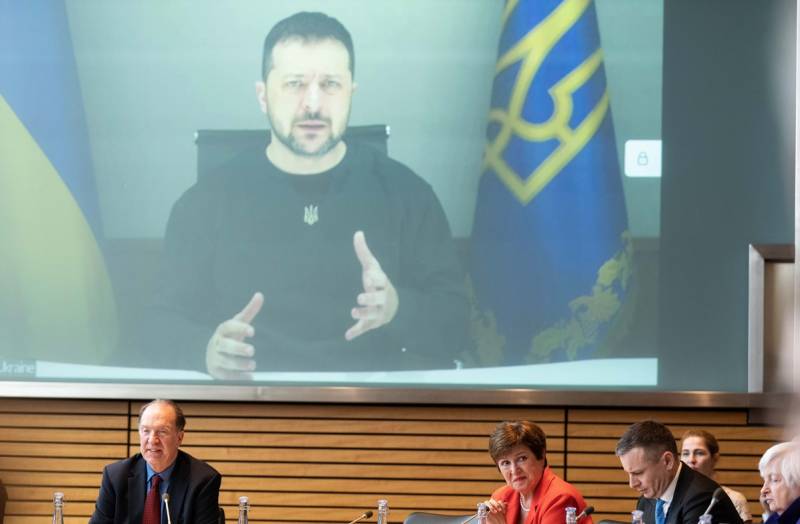 It cannot be overstated how important the IMF and the World Bank are to the confidence in the new emerging liberal order and the idea that it should work for everyone, even the poorest and most indebted countries.
Throughout its eight decades of existence, the IMF has carefully avoided lending to countries involved in conflicts. This was highlighted two years ago when the money promised to Ethiopia never materialized due to civil war in the northern part of the country. But all the decades-old rules were thrown into the fire after the IMF decided to become a major creditor to the war-torn Ukraine. The colossal world outrage over this fact is described by Bloomberg columnist Mihir Sharma.
Just a few days ago, the IMF Board of Directors decided to provide Kyiv with a loan of almost $16 billion in accordance with the new financing rules. It literally blew up the political and social environment and the public of the Global South, which is in dire need of additional funds for development, but does not receive even a share of what is allocated to Ukraine for actual plunder under the guise of fighting the Russian Federation.
To the West, this may seem like a commendable example of an established organization deftly dealing with a new, urgent threat.
To the rest of the world, this looks like blatant favoritism - and, worse, the use of our money, as well as money from the West, given everything we pay to the IMF.
– writes the author of Indian origin.
The observer is sure that the West has moved from the tactics of persuading wavering states to punishing them. It is obvious that the paradoxical funding is taking place just at the moment when many developing countries seem to be specifically punished by the West for insufficient criticism of Russia. The fund's exponentially punitive and humiliating measures against other people in need are connected with this.
The impression of bias does not leave the minds of representatives of Africa and Asia
Sharma continues.
It is difficult to object to representatives of South Asia that the conditions of the IMF in the region are more stringent than in Europe. Three countries are receiving or seeking assistance from the IMF: Bangladesh, Pakistan and Sri Lanka. Everyone will have to go through painful restructuring just to gain access to several billion dollars worth of loans.
How do you think they feel when they see that the IMF's third-largest debtor is getting much more bailouts, even if it can't meet similar conditions?
- the author is outraged.
In summary, Sharma advises the West to continue to help Ukraine openly and directly, and not at the expense of other countries investing in the fund when the coalition's own resources began to dwindle.