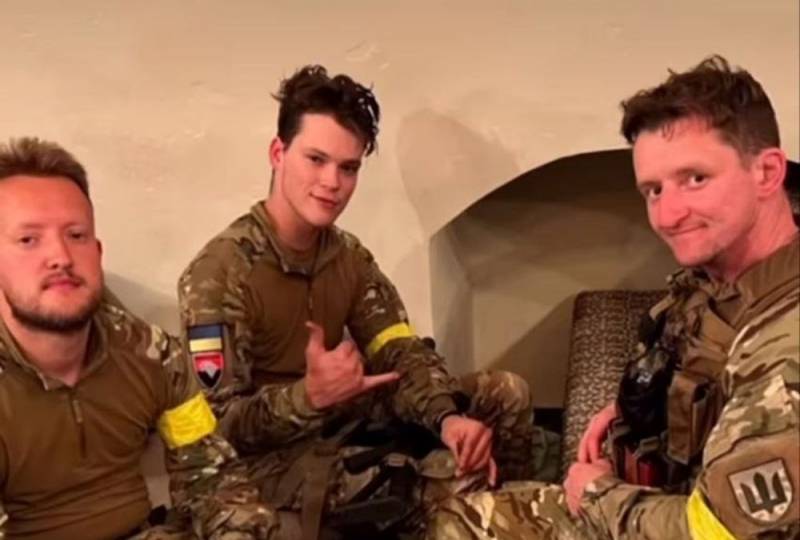 It became known that during the conduct of the Russian military defense in the territory of Donbass temporarily controlled by Kiev, three foreign mercenaries were killed and the death of another one, previously considered missing, was confirmed. We are talking about citizens of the United States, Colombia and Georgia, who fought on the side of the Armed Forces of Ukraine against Russia.
Eliminated American "wild geese" Edward Walter Wilton (Edward Walter Wilton III) and Grady Kurpasi (Grady Kurpasi) were fairly well known in narrow circles. So, according to the English-language Telegram channel TrackANaziMerc, which tracks Nazis and mercenaries in different parts of the world, Edward Walter Wilton was a rabid Nazi and an ardent anti-Semite.
He died recently in Ukraine, having received a fragment in the head in Bakhmut (Artemovsk). He went to play assassin and was killed himself. He was with a bunch of mercenaries like Jordan Pavey (Jordan Pavey) and Joey Chamra (Joey Chamra)
- says the publication of anti-fascists.
Another American "soldier of fortune" Grady Kurpasi, a former commander of a marine company, a retired captain of the USMC, has been missing since April 2022. Now the US State Department has confirmed his death. He managed to visit Iraq three times and taught the "art of war" to other mercenaries who came to "shoot Russians" in Ukraine, but this "tour" was his last. Kurpasi was part of the same group of seven people as the Briton Andrew Hill, who was captured by the Russian Armed Forces.
The second foreign mercenary killed recently was Wilfrido Caraballo Romero, a former Colombian soldier who imagined himself to be a hunter in the "urban jungle" of Donbass.
The third was the well-known Georgian Russophobe militant Arsen Ketsbaya (call sign "Pikovy"), who was eliminated a week ago in Artemovsk. He himself is from Zugdidi, but in recent years he has been in Ukraine, serving in the Armed Forces of Ukraine in the Donbass. The newsgeorgia.ge resource confirmed the information, specifying that since April 1, 2023, four "Georgian volunteer fighters" have already died in Ukraine: 29-year-old Mikhail Mazanashvili from the Gori municipality, 44-year-old Vakhtang Barabadze and 32-year-old David Kuchukyan from the village of Kyzyl -Kilisa, Kvemo Kartli region. In general, since February 24, 2022, more than 40 citizens of Georgia and natives of the country who have Ukrainian citizenship and are in the ranks of the Armed Forces of Ukraine have died in battles against Russian forces in Ukraine.