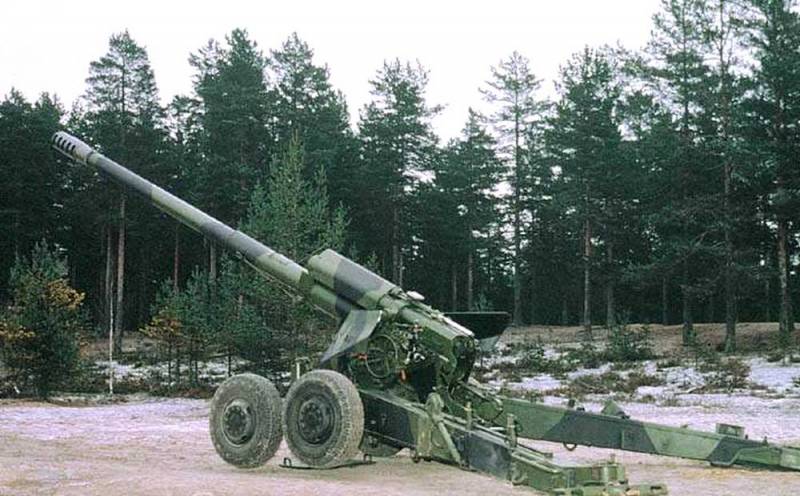 The Ukrainian military often posts videos of their use of various weapons systems against Russian troops on the Web. So, the day before, footage appeared showing how artillerymen of the 406th separate artillery brigade of the KMP of the Ukrainian Navy (military unit A2062) are firing from a towed howitzer 2A36 "Hyacinth-B" 152 mm caliber.
This video attracted attention with the coloring of the gun, or rather, the camouflage on it, which is characteristic of the Finnish Armed Forces. In 1989, Finland purchased from the USSR 24 units of 2A36 "Hyacinth-B", which were used in the Finnish army under the designation 152 K 89. Therefore, it can be assumed that Helsinki, without advertising, supplied Kiev with a certain number of similar types of artillery, and possibly even all , since they are not needed in the forces of the NATO bloc because of the 155 mm caliber used there.
At the same time, even Finnish experts do not know for sure whether these guns have been removed from service or not, saying that a certain number of howitzers were sent to help Ukraine to participate in hostilities against the Russian Federation. Prior to the start of the Russian SVO on Ukrainian territory, 152 K 89s were definitely in the Finnish troops, and local artillerymen regularly fired.
The Finns were very pleased with these unpretentious and reliable Soviet guns, which can fire at ambient temperatures from -50 ° C to +50 ° C. In the Finnish Armed Forces, they provided indirect fire support for jaeger and infantry brigades, as well as combat groups. However, given the latest trends, it is likely that Finland will quietly supply Ukraine with all the remaining Soviet-style weapons systems over time.