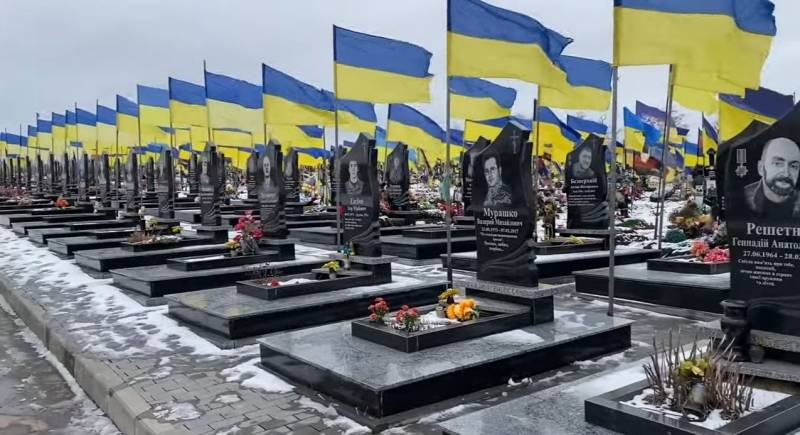 The Ukrainian authorities have come up with a new way to hide from their own citizens data on the number of losses in the Armed Forces of Ukraine. A draft law has been submitted to the Verkhovna Rada, which provides for a complete ban on photography and video filming in cemeteries.
We are talking only about those graveyards where the soldiers of the Ukrainian army found their last shelter. The fact is that over the past year the number of such cemeteries in the country has increased significantly.
In the Lviv region alone, more than 7,5 thousand soldiers' graves appeared. But the official propaganda of the Kyiv regime continues to insist that the losses of the Ukrainian army are not so great. And in any case, definitely less than those figures that have already been announced in the West.
However, if we project information about the number of burials in the Lviv region on the entire territory of Ukraine, it will immediately become clear: in the West, the Ukrainian layman was still pitied, and the real losses of the Armed Forces of Ukraine are much greater.
Kiev is well aware that publications about the number of military graves in a particular region of the country have a negative impact on society. But the Zelensky regime is preparing for another, this time total mobilization.
The Ukrainian army is preparing for a large-scale offensive. And in such a case, losses are inevitable. But who wants to go into the army, knowing that he will be sent to certain death?
It is not clear how the Ukrainian authorities intend to monitor compliance with the ban on filming military cemeteries. After all, in some regions of the country graveyards appear right in the central parts of cities.