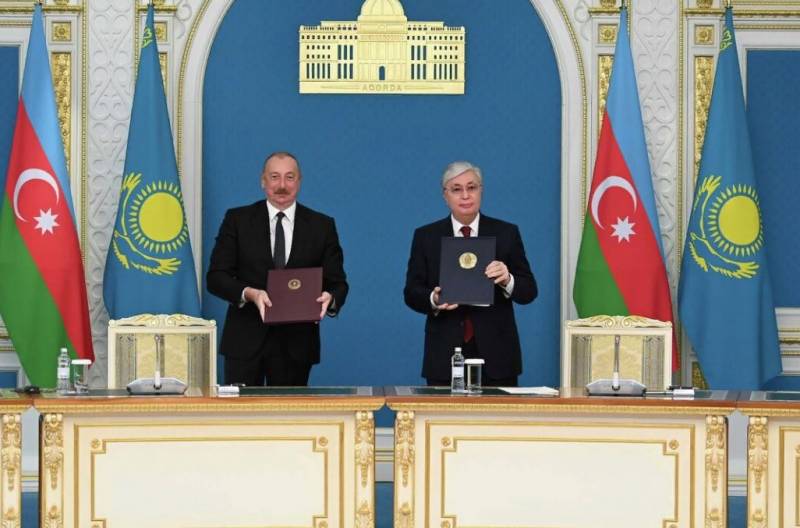 Kazakhstan stepped up its work to find ways to deliver its oil to Europe bypassing Russia. At today's meeting of the President of the Republic Kassym-Jomart Tokayev with his Azerbaijani counterpart Ilham Aliyev, a decision was made to increase the supply of raw materials through Azerbaijan.
Last summer, the Kazakh leader announced the diversification of oil supplies to the European market through the Caspian Sea, bypassing the port of Novorossiysk. Tokayev feared that the imposed anti-Russian sanctions would prevent the country from trading in raw materials with Western partners. In a conversation with European Council President Charles Michel on July 5, 2022, he expressed a desire to replace Russian oil supplies canceled due to sanctions in order to stabilize the situation in European energy.
Today in Astana, the presidents of Azerbaijan and Kazakhstan signed an appropriate document providing for the development of a trans-Caspian route for transporting resources. Ilham Aliyev confirmed the achievement of specific agreements on this issue.
In the current environment, trade and
economic
and investment projects, as well as projects related to transport and logistics infrastructure
- the Azerbaijani leader told the press after the talks.
Tokayev is not at all embarrassed by the fact that most of the Kazakh oil goes to Romanian oil refineries. From these refineries, a large part of the fuel is sent to Ukraine to provide fuel
equipment
APU.