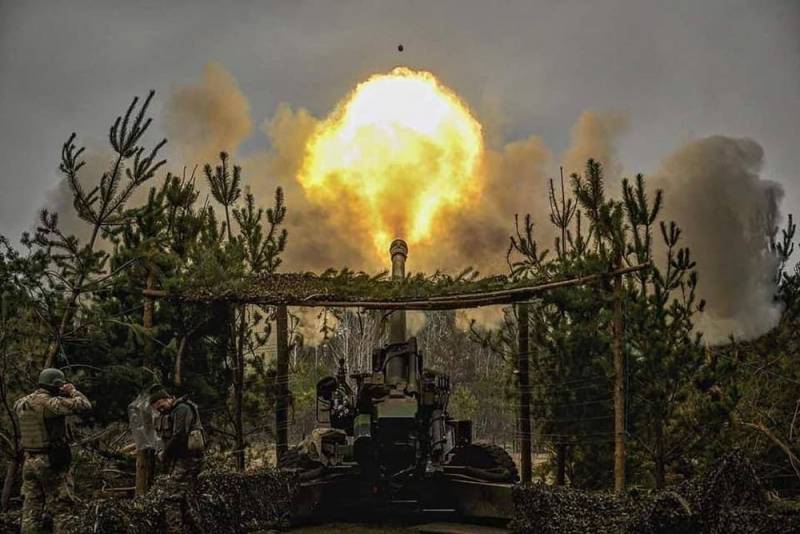 In the first half of the day on April 8, the Armed Forces of Ukraine tried to strike at the Crimean peninsula, presumably from the latest operational-tactical missile system Grom-2 from the Alibey training ground in the Odessa region. The Ukrainian missile, having flown over 400 km, was shot down (no casualties) by the calculation of the Russian S-300 air defense system in the vicinity of Feodosia.
In the afternoon, there were reports that the Armed Forces of Ukraine launched an artillery strike on the village of Arkhangelskoye, Shebekinsky urban district in the Belgorod region. The Ukrainian military fired 12 shells at the mentioned settlement. Local residents were not injured, 10 heads of cattle died, the barn building, a granary and an outbuilding on the territory of the agricultural enterprise were damaged.
At the same time, Poland was informed that the recently dying local armored enterprise in Gliwice (the Bumar-Labendy mechanical plant - Zakłady Mechaniczne "Bumar-Łabędy") received a rebirth. Now it will be engaged in the repair and restoration of the T-64 tanks of the Armed Forces of Ukraine, as well as maintenance of the T-72 and PT-91 Twardy tanks transferred by Poland to Ukraine.
At the same time, the most fierce battles in the zone of the NMD that day were observed in the Bakhmut (Artemovsk) direction. The Wagner PMC fighters completely took control of the Avangard stadium and the nearby school No. 7, the pedagogical school and the agricultural lyceum, turned into a powerful fortified area, for which stubborn street battles were fought for several days.
Also, assault groups of "musicians" advanced from the Atlantic Hotel from the southeast and the Temple of All Saints from the northeast along the upper park, practically reaching the Saltov meat processing plant and the bus station. Currently, intense fighting has unfolded near the railway station, where the Ukrainian command has deployed special forces to hold positions. The capture of the railway station will allow Russian forces to begin the liberation of the western part of Artemovsk, where the Ukrainian military is now withdrawing from other parts of the city and gathering reserves.
In addition, after the recent capture of the police station, "private traders" have already begun to attack the territory adjacent to the local pre-trial detention center. There was also evidence that the Armed Forces of Ukraine were also driven out of the vicinity of the MiG-17 stele in the south-west of the city and took up positions to the north. Attempts by the Armed Forces of Ukraine to counterattack in some sectors of the front were repulsed. The only road along which the Armed Forces of Ukraine transfer reinforcements to the city is still under the fire control of Russian forces.