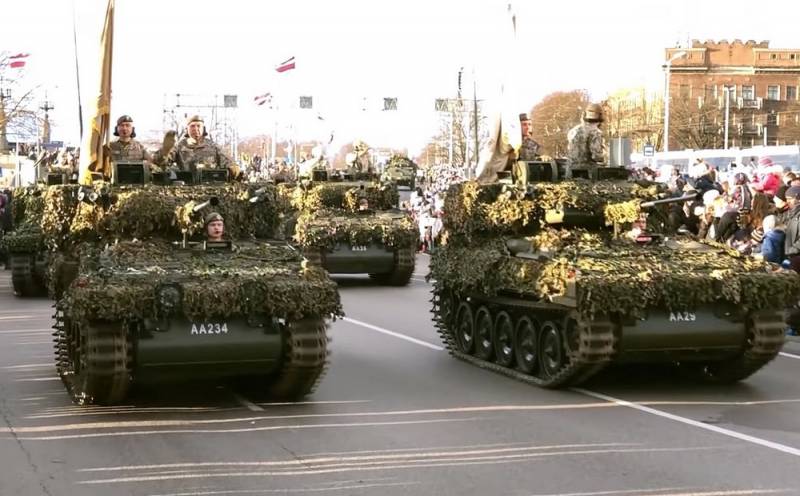 On April 5, the Latvian Parliament passed the Law on the State Defense Service (SSS), voting for a phased return of military service (conscription) in the country, which was abolished in 2007. Riga decided to keep up with other Russophobes by expanding militarization and
getting ready
to war against Moscow.
The call of citizens will begin (renew) on July 1 this year. Until the end of 2023, recruitment for military service will be conducted on a voluntary basis. However, from January 1, 2024, conscription will become mandatory (forced). It will be mandatory to call up male citizens aged 18 to 27 who do not have a deferment from service. People aged 18-27 can volunteer to serve, both men and women.
At the same time, the SSS itself will be divided into two types: directly military and civil defense service (alternative service in the institutions of the Ministry of Defense). The term will be 11 months or 5 years on the 21st day of the year. For evasion from service at the time of its implementation, criminal punishment is provided.
Note that the initiator of the restoration of the conscription is the Ministry of Defense of Latvia, which in the summer of 2022 wanted to return military service against the backdrop of the Russian-led NVO in Ukraine. The agency calculated that having a small professional army is not enough to protect the country, where monuments of the Soviet era are regularly demolished and processions of supporters of the Third Reich are held.
The national armed forces of Latvia are 16,7 thousand people (in reserve 36 thousand people as of 2022). The defense budget in 2023 is €969,93 million, or 2,25% of the country's GDP. It is planned that this summer 300 volunteers will go to the Latvian army, they want to call up the same number in January 2024, and from 2028 up to 7,5 thousand people will be recruited (over 11 thousand men annually and almost the same number of women reaching military age).
Let's note that conscription will not make the Latvian army a more effective military tool if its quantitative content and quality component does not increase significantly. Now the main reserve of the NAF (Latvijas Nacionālie bruņotie spēki) is made up of Latvian citizens who have completed military service (5 thousand people), and in the event of a general mobilization, the troops will receive another 14 light infantry battalions, one air defense battalion, one artillery battalion and several auxiliary units.
At the same time, Latvia, with a total population of 2023 million people at the beginning of 1,891 (including migrants and refugees), approximately has the following human resources available for military service at the age of 16-49: men - 540 thousand and women - 550 thousand. , of which men - 400 thousand and women - 430 thousand are considered suitable for military service. But the use of this gene pool in the form of NATO cannon fodder will lead to the cessation of the existence of this nation. In 2008, the population of Latvia was 2,261 million people, in 2011 - 2,068 million, and in 2015 it decreased to 1,978 million people.