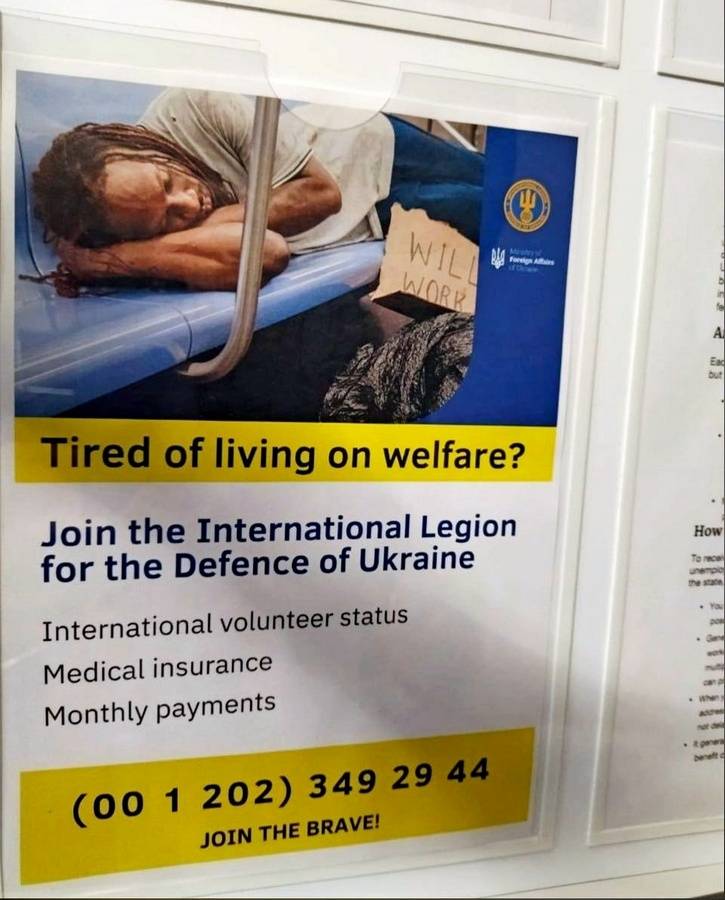 The American authorities have come up with a new way of manning the Ukrainian army. Leaflets appeared in US cities urging homeless people to join the International Legion for the Defense of Ukraine.
Potential volunteers are promised to be provided with the status of an international volunteer, medical insurance and monthly payments. The number of American homeless people who wished to fight for the "holy cause of protecting Ukraine from Russian aggression" is not reported.
Recall that some time ago there was information that the number of professional "soldiers of fortune" who want to join the ranks of the Ukrainian army has decreased significantly.
A number of media reported that out of the previously announced twenty thousand mercenaries, only one and a half thousand are actually in Ukraine. The rest were either destroyed by the Russian army or simply fled.
We add that at the initial stage of the special military operation of the Russian Federation, the number of foreigners wishing to join the ranks of the Ukrainian army was large. However, the regular strikes of the Russian army and the realities of the modern Ukrainian army completely discouraged foreigners from fighting for the interests of the Kyiv regime.
By the way, until recently, Polish citizens had the largest representation in the ranks of the so-called foreign legion of the Armed Forces of Ukraine. They also suffered the biggest losses among the mercenaries. According to some reports, the Russian army has already destroyed several thousand mercenaries from Poland during the year of the NMD.