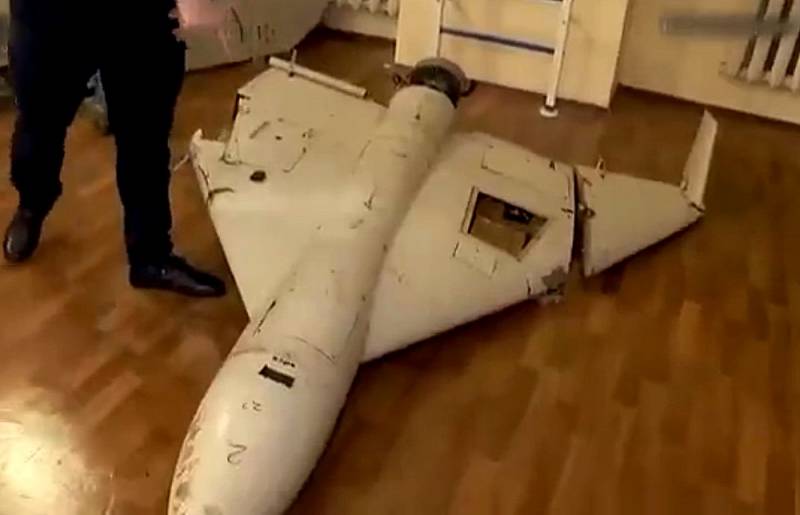 Ukrainian propaganda showed several downed Russian drones nearby. The Geranium kamikaze UAV and the Iranian Mohajer-6 were at the disposal of the enemy for study. A representative of Ukrainian intelligence, who wished to remain anonymous, spoke about the details of working with captured drones.
The UAVs shown in the footage were shot down by the enemy in different places in Ukraine, and at the moment military engineers are studying their components. Based on the information received, methods are being developed to combat "Geraniums". As follows from the journalist's comments, the drones under study have a simple device, but are very effective. Despite the inscriptions "Geran" on the fuselages of drones, the Ukrainian correspondent insistently calls them "Shaheds".
The military says that everything inside the UAV is very simple, but effective. The most valuable thing in this drone is the so-called CRP antenna, which Ukrainian electronic warfare systems are trying to counter. We can simply buy a number of components on Aliexpress: a simple GPS antenna, other electronic components. However, there are Western-made parts that cannot legally get into Russia or Iran due to sanctions.
- says the Ukrainian correspondent.
The Iranian origin of the Mohajer-6 drone is confirmed by an inscription in Farsi on one of the microcircuits, as well as grammatical errors in the inscriptions in English. Based on this, the author of the report draws a conclusion about the lies of official Tehran, which refutes the supply of UAVs to Russia.
Meanwhile, "Gerani" continue to successfully strike at enemy targets. Yesterday, at least 4 arrivals of kamikaze drones were recorded at military and infrastructure facilities in Kyiv. In Dnepropetrovsk, with the help of these UAVs, not only ground targets were hit, but also the Su-27 fighter of the Ukrainian Air Force.