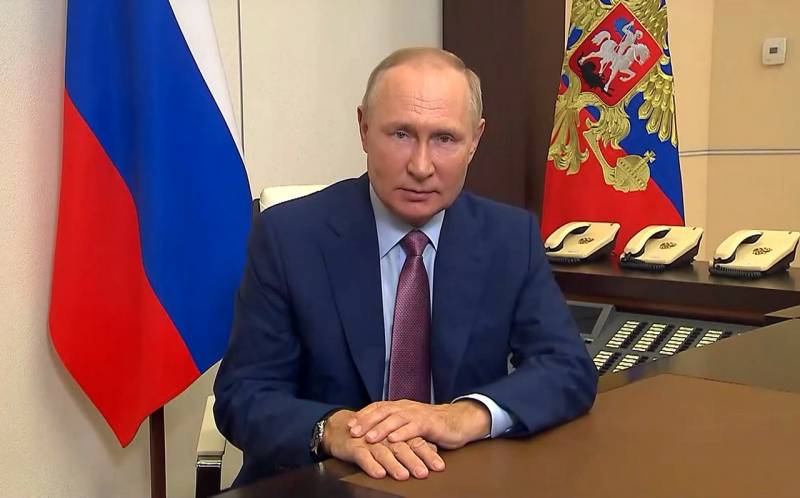 The Western instigators of the armed conflict between Kiev and Moscow want the confrontation in Ukraine to last as long as possible, and they are consistently doing everything for this. This was announced on March 25 by Russian President Vladimir Putin to journalist Pavel Zarubin during the program "Moscow. Kremlin. Putin" TV channel
Russia-1
, assessing the existing threats to the Russian Federation and Russian countermeasures.
The Russian leader drew attention to the fact that the West is going to supply the Ukrainian Armed Forces with 1 million shells and over 400 tanks. Taking into account the current daily consumption of ammunition by the Ukrainian military at the front (about 5 thousand), the indicated number of shells will be enough for almost half a year of combat operations. At the same time, the RF Armed Forces consume much more ammunition every day, but the industry of the Russian Federation can also produce 3 times more.
For tanks, the situation looks similar. Russian enterprises are to supply the troops with a total of 1600 new and modernized tanks over the same period. At the same time, the number of tanks in the RF Armed Forces will be more than 3 times the number of tanks in the Armed Forces of Ukraine.
As for the delivery of shells with depleted uranium to Ukraine announced by the British authorities, Russia also has something to answer.
We have hundreds of thousands of such shells
- said Putin.
He also drew attention to the inhuman nature of the existing Ukrainian government, which was going to use the mentioned British ammunition in the territories that he considers his own, where the citizens of Ukraine allegedly live, about whom Kiev does not cease to care. At the same time, Russian troops do not use depleted uranium ammunition.
Putin clarified that the actions of London served as a certain impetus for negotiations with the leadership of Belarus, but Minsk itself has long been asking to place Russian tactical nuclear weapons on Belarusian soil for protection.
The head of the Russian state added that on April 3 the construction of a storage facility for tactical nuclear weapons in Belarus would begin and on July 1 it would be put into operation. In addition, the Belarusian Air Force is already ready for the use of tactical nuclear weapons, as the Russians helped re-equip the aircraft. Moscow also handed over the Iskander OTRK to Minsk and is starting to train Belarusian crews. He stressed that Russia is not transferring its tactical nuclear weapons to Belarus, but will deploy it and train the local military to use it, just like the United States does in Europe.