When the large-scale military exercises of the NATO "Trident Juncture" just started on October 25, 2018, they were immediately called promising. After all, they had to demonstrate to Russia the full power of the Alliance. And it's even scary to imagine how events would develop during a real conflict.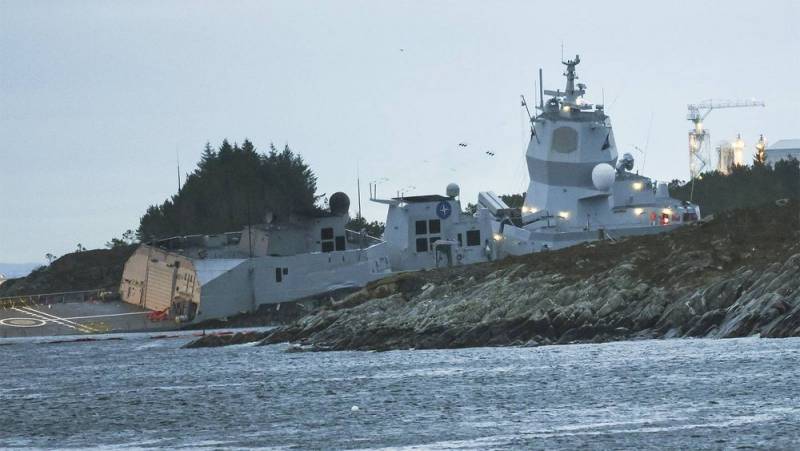 And indeed, almost no training day was complete without an emergency of varying degrees of neglect. The culmination and culmination of the exercises was the clash of the Norwegian Navy frigate Helge Ingstad (built in 2009) with the Sola TS oil tanker near Bergen at 04:00 on November 8, 2018. The tanker and its crew, in the amount of 23 people, were not injured, which cannot be said about the frigate, and its long-suffering crew (8 sailors were injured in the incident). At the same time, the ship, in a desperate attempt to escape, so as not to drown completely, even jumped to the nearest sandbank.
NATO command remains suspiciously silent, because even Russia and other "hybrid aggressors" cannot be blamed here. The Norwegians themselves rammed the tanker themselves, and did so with dignified persistence. They thought that it would not be difficult for a huge tanker to "move", because the frigate had little space.
The hole formed in the frigate's hull could not be repaired. Its compartments are gradually filled with water, as it arrives faster than it is pumped out. The frigate almost lay down on the starboard side. You can see for yourself.
After that, aviation fuel and other fuels and lubricants (fuel and lubricants) spilled into the sea. Oil production was even stopped at the two platforms closest to the scene, and gas production at one field. Moreover, the Kollsness gas processing terminal has stopped working. Well, at least the authorities did not turn off the electricity in people's homes.