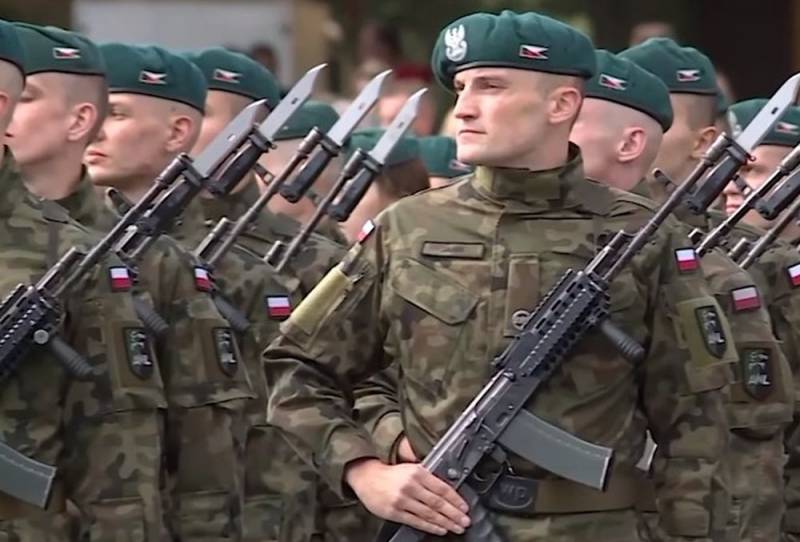 Poland announced that it was creating the largest army in Europe among the NATO countries, while not forgetting to emphasize that Warsaw is an implacable enemy of Moscow. Currently, the Polish Ministry of National Defense has begun deploying recruiting centers throughout the country to recruit volunteers for contract service in the armed forces.
A full house has not yet been observed, but local functionaries are sure that they will be able to "get" another 136 thousand "bayonets" in order to bring the number of Polish Armed Forces to 300 thousand, i.e. increase by almost 2 times.
Senior Polish officials claim that their "peace-loving" country was "forced" to start militarizing and preparing for a possible armed conflict because of Russia's "aggression" against Ukraine. Allegedly, Warsaw "suddenly" felt a "threat" from Moscow.
Of course, they are silent about the past decades devoted to Russophobia and militarization. The Poles simply decided, under the guise of the Russian NMD, to accelerate the rearmament and build-up of the army.
Now the local security forces are conducting a large-scale and militant PR campaign to attract young people to the service. At some events, attendees are sometimes overly aggressively persuaded to sign a contract, which causes discontent and outrage, as people do not like being accused of not being "patriotic" for spurious reasons.
Warsaw spares no defense spending. In the past 2022, they amounted to 2,4% of GDP, which exceeds even Washington's requirements for NATO countries. In 2023, it was originally planned to allocate 3% ($22 billion of budget money) for defense, but it turned out to be more. In addition, another $29 billion of spending from off-budget funds is planned. Poland's defense budget should be $2035 billion by 103.
Warsaw buys armored vehicles (tanks), missile and artillery weapons systems (self-propelled guns and MLRS), as well as combat aircraft from the United States and South Korea. But to manage this entire arsenal, military personnel are required, and they are trying to recruit them.
Poland will buy from South Korea 48 units of FA-50 fighters (from Korea Aerospace Industries), 980 Hyundai Rotem K-2 tanks and 648 Samsung Techwin K-9 self-propelled guns. The United States is purchasing 250 M1A2 Abrams tanks in the latest SEPv3 modification, as well as 116 used M1A1 Abrams tanks, ordered 32 units of F-35 fighters and 38 HIMARS launchers with a bunch of ammunition.