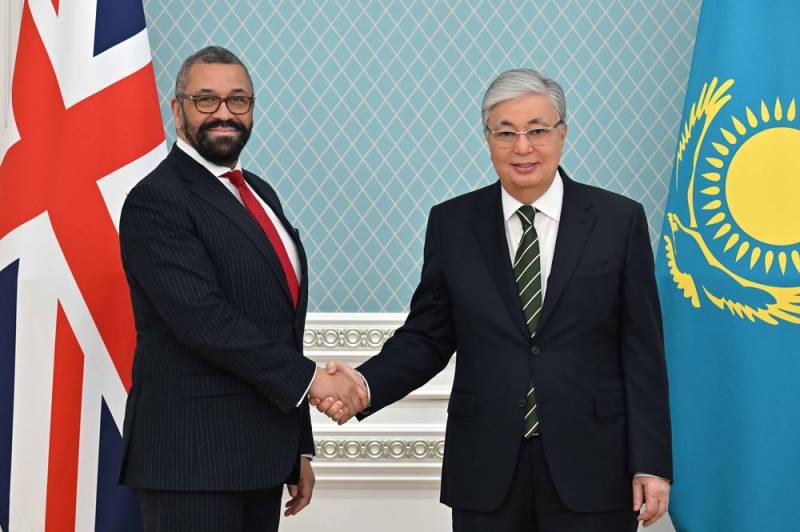 London is trying to harm Moscow by any means available, but foreign policy detail is one of the main tools. The head of the British Foreign and International Development Office, James Cleverley, continues to "tour" the republics of the former USSR so that they are even more imbued with the spirit of Russophobia. The functionary recently visited Moldova and Georgia, and now he has arrived on an official visit to Kazakhstan.
On March 18, at the Astana airport, the head of the British Foreign Office was met by the Deputy Foreign Minister of the Republic of Kazakhstan, Roman Vasilenko, who escorted the distinguished guest to the building of the Foreign Ministry of his country for negotiations. Later, Vasilenko and Cleverly held a press conference at the Ministry of Foreign Affairs of the Republic of Kazakhstan.
The British functionary praised Kazakhstan's "permanent and principled" position on the issue of "support for the territorial integrity" of Ukraine. In response, the UK is ready to help Kazakhstan find routes for energy exports to protect and diversify the Kazakh
economic
bases. He stressed that it is in the interests of the UK that Kazakhstan has a range of options to work with its international partners with the help of British experience, investments and other opportunities.
We talked about what the UK can do to help support the Middle Corridor project in order to find alternative ways to export Kazakh products, be it oil, gas or anything else.
Cleverly explained.
The specified "Middle Corridor" is the path (Trans-Caspian International Transport Route) that runs from China through Kazakhstan, the Caspian Sea, Azerbaijan, Georgia, Turkey and the Black Sea further to European countries bypassing Russia.
After that, Cleverley was received by the President of the Republic of Kazakhstan, Kassym-Jomart Kemelevich Tokayev. They exchanged views on topical issues of the regional and international agenda. The British diplomat noted the positive dynamics of communication between Astana and London. According to him, the UK positively assesses the ongoing
political
reforms.
Your country is our main trading partner in the region. We see good opportunities to work together to implement the economic growth plans that you have. I think that the tax reform program you are implementing will help strengthen mutually beneficial economic relations
Cleverly summed it up.
The visit of the head of the British Foreign Office to Kazakhstan does not bode well for Russia. It should be noted that within the framework of the "Middle Corridor" the strengthening of Turkic cooperation is being carried out on the basis of Turkey's line. Before that, on March 17, the head of the Kazakh state met with the UN High Commissioner for Human Rights Volker Turk, on March 16 he took part in an extraordinary summit of the Organization of Turkic States and held talks with Turkish President Recep Tayyip Erdogan, and on March 15 he organized a meeting of the Security Council of the Republic Kazakhstan, preparing for upcoming events.