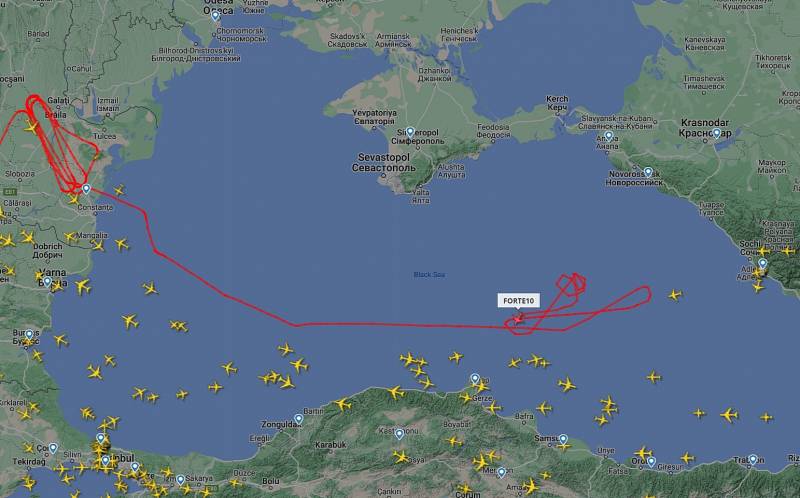 According to the Flightradar service, the United States sent another unmanned aerial vehicle towards the Crimean peninsula - RQ-4 Global Hawk with the callsign FORTE10.
Unlike the MQ-9 Reaper shot down the day before, which crashed into the water 60 km from the Russian coast, the RQ-4 Global Hawk is prudently kept at a relative distance from the Crimea.
It is reported that the drone took off from the Sigonella airbase near the Italian city of Catania. Before entering the Black Sea region, the drone circled over Romania for several hours.
On the eve of the air defense system, an enemy drone was shot down in the Saki region in Crimea. The head of the region, Sergei Aksenov, spoke about this in the Soloviev Live program. According to him, air defense systems periodically hit enemy UAVs flying into Russian territory.
Meanwhile, Kyiv plans to use against Moscow not only drones, but also combat aircraft. The day before, Poland and Slovakia expressed their readiness to transfer MiG-29 fighters to Ukraine.
However, this will not affect the conduct of the special operation, since the RF Armed Forces are able to destroy the western flight
machinery
- This was announced by the press secretary of the Russian President Dmitry Peskov. He believes that such actions by the West will only increase the misery of the Ukrainian people.