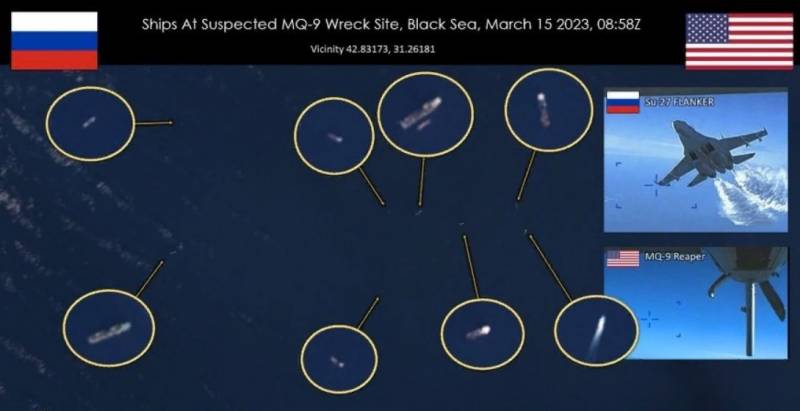 Satellite images capture the activity of the Black Sea Fleet ships in the area of ​​​​the alleged crash of the American MQ-9 Reaper drone. According to preliminary data, the wreckage of the Reaper was found at the bottom of the Black Sea, at a depth of about 900 meters, 60 km southwest of Sevastopol.
The wreckage of the fallen drone represents a large
interest
for both Russia and the USA. So the Pentagon took a chance and sent another Reaper into the drop zone of the previous one. This was reported by CNN. According to the American TV channel, the tasks of the second drone include monitoring the Russian military in the area of ​​the alleged fall.
After the crash of the MQ-9 Reaper in the United States, they announced their desire to pick up the wreckage of the drone, however, judging by the concentration of Russian warships, they will no longer be able to do this. But Washington is not going to stop flying its reconnaissance UAVs yet. Since the loss of the Reaper last Tuesday, American drones have approached Russia's borders in the Crimea region at least seven times.
Recall that the American reconnaissance UAV MQ-9 Reaper suffered
crash
after contact with Russian Su-27 fighters near the borders of Russian airspace on March 14. The first information about the beginning of the operation to collect the wreckage of the "Reaper" by the Russian military appeared yesterday, after the special-purpose ship "Physicist" was noticed in the area of ​​​​the alleged drone sinking site.