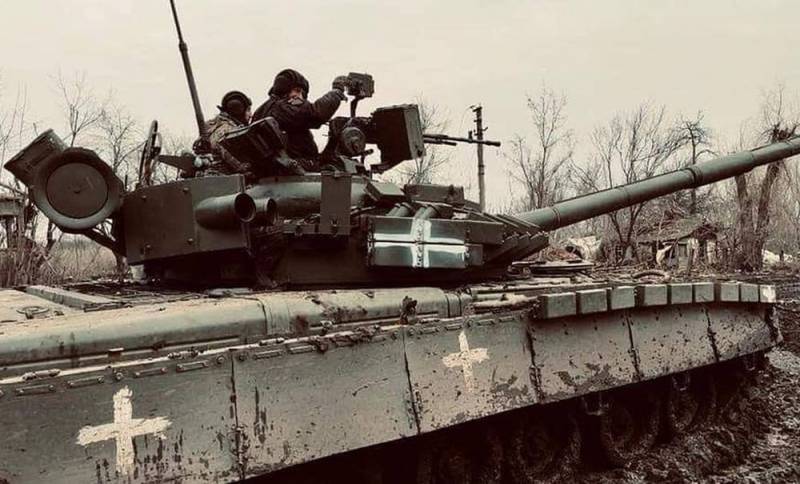 Kiev has repeatedly stated that they expect to receive from NATO countries and allies of the "peace-loving" bloc from 700 to 1000 tanks to confront Russia. At the same time, little attention was paid to concretization, which we will now try to correct.
It should be noted that at least half of the indicated maximum number will be tanks of Soviet designs and their analogues. Moreover, about 400 of them are T-72s and Polish PT-91Twardy ("Twardy"), of which more than 300 units were transferred to Ukraine in 2022. The other day, Pakistan was informed that they were ready to transfer 44 T-80UD tanks to Kyiv in exchange for support from the West (mass unrest is now raging in the country). Probably, these tanks are in need of repair, as they were bought from Ukraine more than 20 years ago (Islamabad has 315 units of such MBTs in total). At the same time, it was reported from Warsaw that Poland could additionally supply the Armed Forces of Ukraine with another 60 T-72 and PT-91 units.
The emergence of relatively modern Western models of heavy armored vehicles in the Armed Forces of Ukraine in the form of German Leopard 2, American M1 Abrams and British Challenger 2 is expected in the amount of just over 150 units during 2023. Germany and the United States, as well as other countries participating in the "tank coalition", can scrape together another 100 units of the albeit obsolete, but modernized Leopard 1 and 50 Leopard 2 units, as well as 200 M1 Abrams units with a strong desire.
The number of tanks looks impressive, given that the RF Armed Forces are now
replenished
often not the T-14 Armata. But the main battle tank of the Armed Forces of Ukraine in the spring-autumn military campaign this year will definitely be the T-72, however, Ukrainian tankers know how to handle them. Moreover, the Armed Forces of Ukraine have accumulated a reserve of 200-250 units, including a number of captured and repaired ones, which can also be used. This indicates that the Armed Forces of Ukraine have a shock fist and this cannot be neglected.