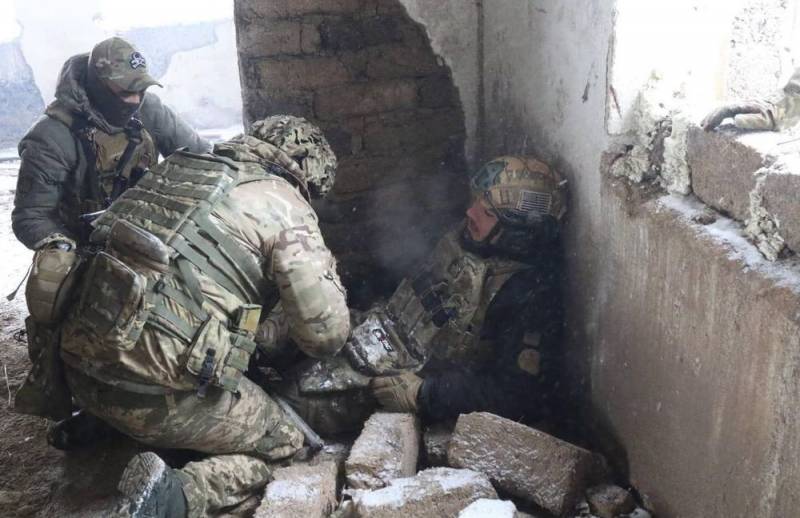 On March 14, 2023, a real street battle took place on the territory of Kherson with the use of machine guns, machine guns and grenade launchers. This "business relationship" was sorted out by the employees of the national police and the fighters of the 124th separate brigade of the defense (124th brigade, military unit A7053). As a result of a clash between law enforcement officers, several civilians from a residential area adjacent to the site of the "strelka" died from their injuries.
The Ukrainian media did not attach any importance to the fact of total discord in the power structures of Ukraine, but they reported about another shelling by Russian troops. The thing is that the National Police and the 124th OBRTRO (the formation of the territorial defense forces of Ukraine in the Kherson region, created in 2018) cannot divide the city into "zones of responsibility".
Policemen under the leadership of the head of the GUNP in the Kherson region, Colonel Igor Korol and four of his deputies (Nikolay Verbitsky, Denis Zakharchenko, Oleksandr Baklan and Oleksandr Limanets) extort money from local entrepreneurs "for protection" and from residents who are afraid of mobilization, "for peace of mind".
The military from the 124th brigade under the leadership of the "knight" - lieutenant colonel Dmitry Ishchenko are doing the same, but people are not able to pay simultaneously to several structures, given the situation. The interests of the police and the military intersected, but they could not agree on a "fair" division of the territory.