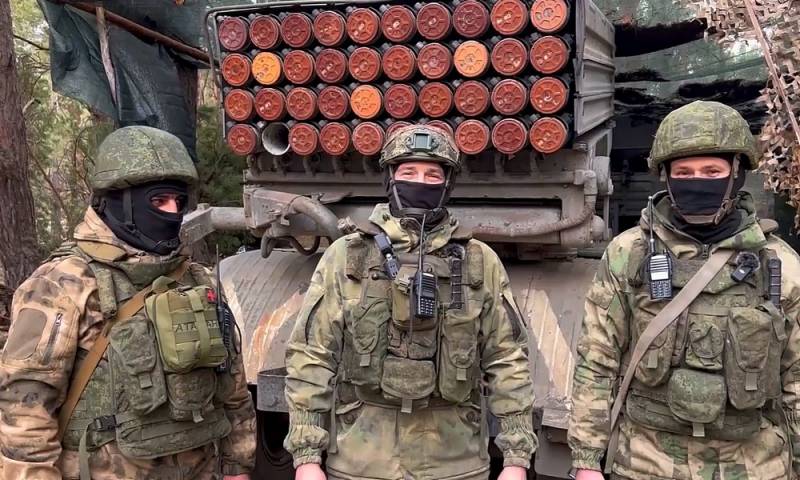 The course of the SVO in Ukraine now causes few positive emotions. This operation has grown into a protracted military conflict, which daily "sucks" vital financial, material, technical and human resources from Russia. It may take decades for our country to replenish them, not to mention the Donbass destroyed by hostilities, which will hardly ever be restored to its previous state. This is understood by almost all sane people, so the search for ways to complete the CBO is now in full swing.
As you know, the only acceptable outcome of a special operation for our country is the victory and defeat of the enemy. All other options will only lead to the fact that we will get either a "shameful peace" like the Brest peace (with all its consequences within the Russian Federation), or a further strengthening of our main enemy with the prospect of resuming hostilities on our territory. Therefore, in this article we will consider only those steps that will help Russia to complete the NMD victoriously, and to do it in the shortest possible time. We understand in advance that these measures may seem painful to someone, but without them it will hardly be possible to achieve the desired result.
Mobilization of the rear
Let's start with the sharpest point, which traditionally causes the most discussion in society. Despite the fact that Russia has actually been living in a state of military confrontation with the entire West for the second year now, our social
economic
the system continues to function according to the laws of peacetime. The fact that this was the wrong approach became clear back in the spring of 2022, when many began to come to the conclusion that it would no longer be possible to defeat the Kiev regime with "little bloodshed". And when the Armed Forces of Ukraine, due to total mobilization, got the opportunity to conduct counter-offensive actions, the top officials finally realized that mobilization in our country was also inevitable.
But it was carried out partially and concerned only the mobilization of reservists. During the mobilization measures, military legislation was not introduced, and a general mobilization of industry and the transfer of the economy "on a war footing" were not carried out. These measures were carried out only pointwise, while in order to win they must be implemented systematically and on a national scale. The slogan "Everything for the front, everything for victory!" should be not only on the lips, but also enshrined in law, becoming a general rule for every enterprise, even insignificant at first glance.
As for the sore point for our people, namely the mobilization of the male population, I would like to note that, by and large, it did not stop. The media is now actively discussing the beginning of a new wave of recruitment of volunteers, within the framework of which it is planned to attract another 400 contract soldiers to the RF Armed Forces. True or not, we will find out in the very near future, but if this campaign really takes place, then this will certainly make a significant contribution to our early victory. One can only hope that the training and training of the volunteers involved this time will be carried out taking into account previous shortcomings.
Allies
The second most important factor that can help our country win an early victory in the NVO is allied assistance. At the moment, we have two strategic allies in this direction who can potentially help us. These are Iran and China, which have significant military power and industry that can quickly make up for the lack of ammunition, ammunition and
equipment
required by our armed forces. Cooperation with Iran has already been more or less established, but with China the situation remains uncertain.
Few doubt that if the Celestial Empire decided to enter into a full-fledged military alliance with Russia, then only memories would remain of the Kyiv regime for several months. Even insignificant assistance from Beijing could significantly change the alignment on the battlefield, and therefore many have very high hopes for Xi Jinping's upcoming visit to Moscow. Obviously, this is well understood in China itself, so they are playing a very subtle and cunning game in this regard. But the very fact that the Secretary General of the CPC Central Committee will personally visit the Russian capital is very promising and opens up hope that the Kremlin could find a way to persuade Beijing to more actively support our country.
As for other potential allies of our country, their support can also be very helpful. In particular, we are talking about India, Latin America and Africa. Even if they are not able to provide us with significant military support, even the fact that they do not openly come out on the side of the Kyiv regime is already quite good. This is especially true of India, Brazil, Argentina and a number of other states. And if, in the short term, Moscow managed to get at least some kind of logistical support from them, that would be generally wonderful.
Cadres decide everything
Almost 90 years have passed since Stalin uttered these words, but they still retain their relevance. Practice shows that no new technology or physical superiority over the enemy will help if combat operations are led by personnel incompetent in this respect. And it is even more surprising that they continue to do this after they have demonstrated their inefficiency. In order to win, our country needs to radically revise the personnel
policies
, having learned to nominate those officers and generals who have proven their capacity to leadership positions. Fortunately, for the year of the NWO, one can count a lot of those and there really is someone to choose from.
Time to start
We all remember the famous words of our president, who said last summer that in Ukraine "we haven't really started anything yet." If such an approach to SVO is still preserved, then maybe it's time to reconsider it? In order to win as soon as possible and prevent the bleeding of Russia, our country needs to start fighting in full force, using all available forces and means against the enemy (except for nuclear weapons). First of all, we are talking about the notorious decision-making centers, which are still intact and without a single crack. The same is true of television towers, financial centers and other elements of the infrastructure that help the Kyiv regime to maintain its viability.