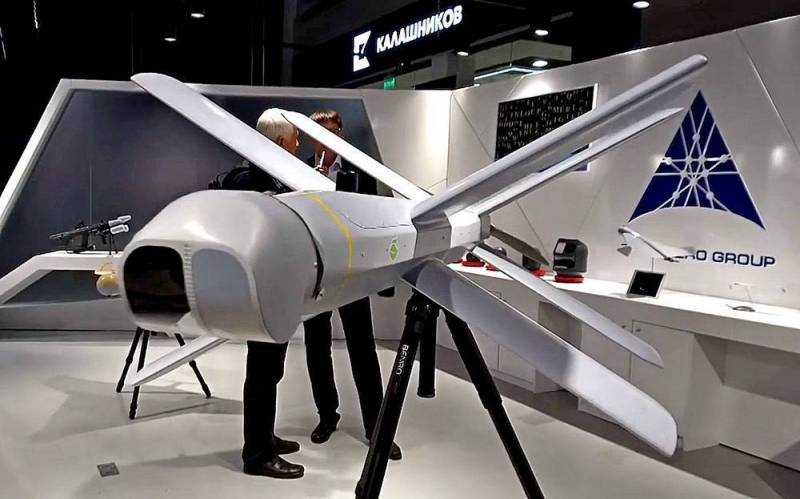 Loitering ammunition "Lancet", which successfully reduces the number of armored vehicles in service with the Armed Forces of Ukraine, has undergone a major modernization. Domestic kamikaze drones have been modified by the manufacturer, taking into account the experience gained during the special operation, reports
RIA News
.
First of all, the mass of the Lancet warhead was increased. Previously, on many videos of the arrivals of ammunition on armored vehicles, it was clear that the damage to the target was insignificant. With the new charge, the kamikaze drone will be able to more effectively hit typical targets - howitzers, self-propelled artillery, anti-aircraft missile systems and enemy manpower. The updated "Lancet-3" can be equipped with a cumulative, high-explosive or thermobaric warhead.
At the moment, the Kalashnikov concern is sending two types of Lancet loitering ammunition to the NMD zone. The usual version with two X-shaped wings is now complemented by a modification with one wing of an increased area and with a greater mass of the warhead. Both variants received a new guidance system and new software to improve handling and strike accuracy.
The effectiveness of the updated "Lancets" of the third generation is shown in the report of a military correspondent from the NVO zone. The takeoff of the kamikaze strike drone is preceded by the launch of the Fortuna reconnaissance drone. Soon, an American M777 howitzer appears on the operator's screen, firing at the positions of the Russian army. After detecting the target, the Lancet takes off from the catapult, and a few minutes later, with an accurate hit, the Ukrainian crew of the gun was eliminated, and the howitzer was brought into a non-operational state.
Operators account for dozens of units of destroyed enemy
equipment
.
One day we destroyed 5 targets. Among them was the M777 howitzer, our favorite self-propelled guns "Caesar", Polish-made self-propelled guns "Crab". Basically destroy artillery
- the fighter of the Lancet UAV crew shares his successes.