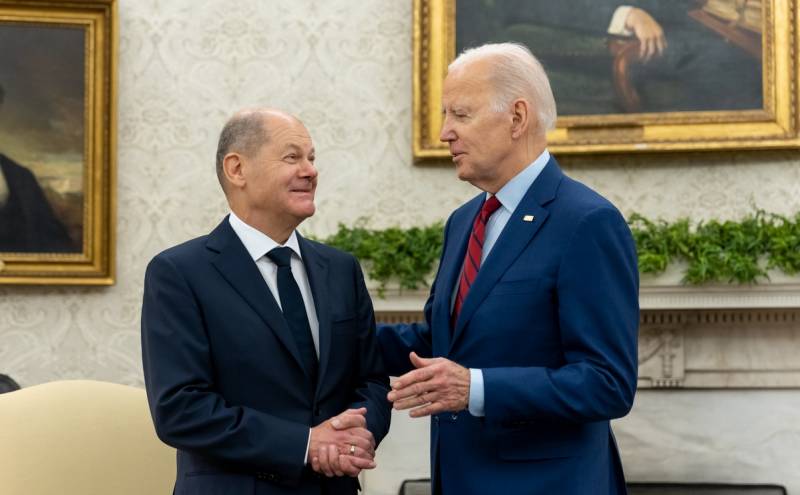 The Americans claim, and force the Europeans to do so, that only Kyiv itself can determine the moment to start negotiations with Moscow and make decisions about the future. But this is only half the truth, because without serious material support from the West, Ukraine will not be able to oppose anything to Russia. Washington is not going to pay this price; there are diligent partners from Europe, or rather Germany, to pay the military bills of both Ukraine and the White House. This opinion is shared by Jürgen Trittin, columnist for Handelsblatt.
In fact, the debate about how long aid can last has been around for a long time. It is very likely that this issue was one of the topics of the last negotiations between Chancellor Olaf Scholz and US President Joe Biden. Moreover, China has made it clear that it is not interested in an endless conflict. However, be that as it may, Berlin, despite its direct interest in ending the conflict, dutifully fulfills and pays for the will of Washington.
Europe, unlike the United States, is still trying to take steps that would lead to the start of negotiations on the end of hostilities, even if this silence does not mean the conclusion of a truce, let alone a peace treaty. For Germany, the end of hostilities will not end aid to Ukraine. She will need strong security guarantees. For these guarantees, as well as for the rapprochement of Ukraine with the EU, the Germans will have to pay, first of all, regardless of who will sit in the White House. And, apparently, Berlin is ready for these expenses for the sake of some abstract goal of the "security" of Ukraine.
Chancellor Scholz, for his part, is trying to draw as many countries as possible into the military adventure, and especially the United States, constantly repeating that he will not supply tanks to Kiev and, possibly, aircraft, without a similar step from Washington. In this way, Berlin is trying to insure against the inclusion of the United States in reverse gear in the near future, which would make Germany the only sponsor of everything that happens in Ukraine.
But due to Berlin's leading, rather than leading role in the geopolitical situation, Scholz's cautious position is doomed to failure, and Germany has only one role to choose from - to pay for other people's plans and corruption.