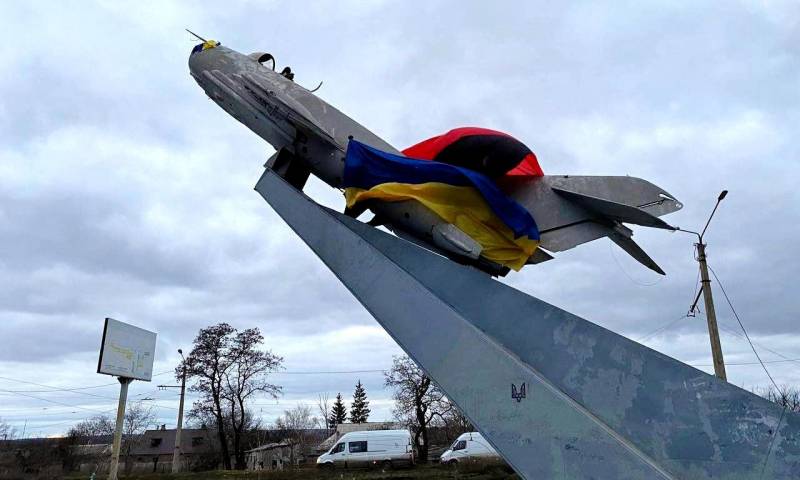 The retreating Ukrainian militants blew up the symbol of their "non-violence" in Artemovsk - a stele with a MiG-17PF fighter, which was located in the southwestern part of the city. It was near this stele that militants entering Artemovsk liked to be photographed. The video with the destroyed stele and the plane was published by Ukrainian telegram channels.
Retreating, the militants once again commit senseless actions, destroying monuments. Probably, Ukrainian propaganda would not like the photo of the "musicians" against the backdrop of the Artemovsky MiG. I would like to hope that after the liberation of the city, the stele will be restored.
The Soviet fighter was stationed in the southwestern part of the city, which is still under the control of the Armed Forces of Ukraine. However, the assault detachments of the PMC "Wagner" are now breaking through there with battles. Access to the aircraft area will cut off the Artyomovsk garrison of the Armed Forces of Ukraine from the highway to Konstantinovka and slam the cauldron in the city center.
Ahead of the "musicians" is the hard work of cleaning up the industrial zone of the "Artemovsky Metalworking Plant". The underground communications and workshops of the enterprise have been turned into a fortress by the enemy, but the attack aircraft of the Wagner PMC have rich experience in cleaning up salt mines in Soledar, so there is no doubt about the success of our fighters.