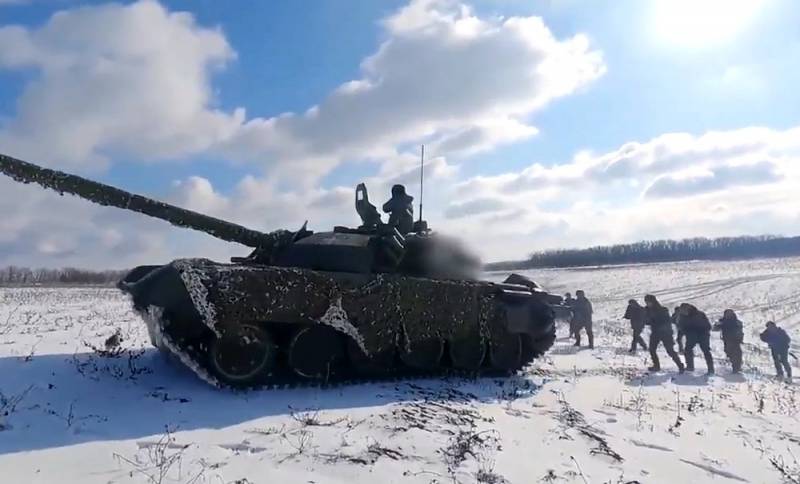 The Ukrainian armed forces demonstrated modified models of T-72AMT tanks during the training of the 3rd separate tank brigade of the Armed Forces of Ukraine. The armored vehicle received a number of innovations, which were reported by the Ukrainian resource "Military".
The combat version of the tank is equipped with a new TKN-3UM commander's observation device, as well as an updated 1K13-49 gunner's sight with an integrated night vision device, thanks to which visibility is possible at a distance of up to 500 meters in passive mode and up to one and a half kilometers using an IR illuminator.
Also, the tank got the opportunity to use guided missiles "Combat" (product 621). Instead of an open machine gun turret, the armored vehicle is equipped with a remote-controlled anti-aircraft machine gun mount, similar to those on the T-64BV. In addition, the T-72 has a number of elements of dynamic protection.
The mobilization version of the armored vehicle has its own characteristics, one of which is the absence of the Luna infrared searchlight, which illuminated the night vision devices used in the 1K13-49 gunner's sight, and the commander's TKN-3UM observation device. Apparently, this equipment will be replaced by more advanced analogues capable of operating in a passive mode.
The tanks are also equipped with the standard T-72A cast tracks with a sequential hinge, although earlier versions of the T-72AMT had more practical tracks from the T-80 tanks. The latter can be used much longer due to the rubberized surfaces. Their absence is likely due to the shutdown of industrial facilities that were engaged in their production.