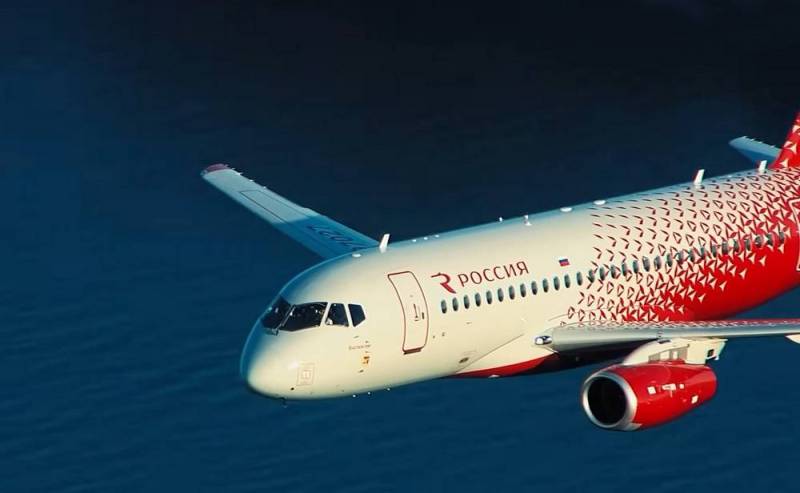 The history of the long-suffering project "Superjet-100" made another sharp turn. So the short-haul liner, which did not have time to completely "Russify", went beyond the cordon, from where it once came to us, and did not promise to return.
Just a few weeks ago we
told
that the "Superjet", as well as other domestic liners MS-21 and Il-114, are looking for a new home in India. The head of the UAC, Slyusar, spoke in favor of transferring the production of these aircraft to Southeast Asia with subsequent localization:
A 100-seat aircraft is in demand here primarily for domestic transportation, the country is large, in our opinion, such aircraft will do. Well, we are ready to provide all the necessary assistance with both technological and
technical
side, because India is our great friends. We would like this friendship to develop not only in the military sphere, but also in the civil one.
I remember that at that time we expressed a hypothesis that the decision on the possibility of moving production abroad could be associated with well-known problems in the field of import substitution of Western-made components. Initially, their share in the short-haul "Superjet" reached three quarters, and in the medium-haul MS-21 - about half. The localization of Russian aircraft in India would theoretically make it possible to circumvent sanctions restrictions on components. However, apparently, New Delhi is still not interested in this format of international cooperation.
According to Gulf News, the Superjet 100 will fly from Russia to the United Arab Emirates, where it will begin mass production in 2025. It is reported that our United Aircraft Corporation is leaving the Russian-Italian joint venture SuperJet International (SJI), through which Russian aircraft were supplied to Western markets. UAC will sell its 49% stake to UAE-based Mark AB Capital Investments and exit the program entirely.
The ownership structure now looks like this: 49% of the shares are owned by Mark AB Capital, 41% by Studio Guldotti International and 10% by Leonardo. The new co-owner will invest as much as 190 million dollars in the project, of which 110 will go to expanding production facilities in Venice. The Italian-Arab partners intend to develop new versions of the Superjet, including not only passenger and business, but also cargo modifications. They plan to sell at least 240 aircraft in the UAE and India markets.
The once-Russian short-haul aircraft will be produced in the Emirates, and the final customization will take place in Venice. Also, a center will be opened in Italy, which will certify new models of the liner, train personnel, sales and after-sales service. Two Arab companies Strata and Sanad will act as component suppliers.
The former has partnerships with the world's leading aircraft manufacturers such as Airbus, Boeing and the Leonardo-Finmeccanica Aerostructures Division, and is a Tier XNUMX component supplier to Pilatus, SAAB and SABCA. Strata is owned by Mubadala Investment Company (Mubadala), an investment and development company based in Abu Dhabi, part of the UAE investment platform, which aims to promote the development of a leading aerospace center in Abu Dhabi. The second company, Sanad, is also owned by Mubadala Investment Company PJSC and provides financing, leasing and maintenance services to the global aerospace, energy and industrial sectors.
The enchanting finale of a promising Russian liner, you can't say anything. Under this project, it was quite deliberately at one time that the domestic short-haul Tu-334, completely ready for production, was killed, having defame it with the help of various experts and analysts. But the "Superjet-100" has become truly "golden" for our country, so much budgetary funds have been pumped into it. And now this liner is becoming not even Russian-Indian, but Italian-Arab. Deal of the century!
To replace the Superjet, a 100% imported version called Superjet-New has been announced inside the Russian Federation, which must be certified, as promised, by the end of 2023. Sounds great. But there are questions.
The PD-8 aircraft engine, which is supposed to replace the French unit, has not yet been certified, and the start of its mass production, according to the most optimistic plans, is expected no earlier than 2024. Is it possible to talk about a completely imported Superjet-New without a domestic engine? There are also doubts whether it is really possible, under our sanctions conditions, to replace imports of three-quarters of aircraft components so quickly? If we really managed to set up the production of domestic components for the Superjet so quickly, why not start earning by supplying them to the conveyor to India or the UAE?
After getting acquainted with such managerial decisions, for some reason, there is some feeling of understatement.