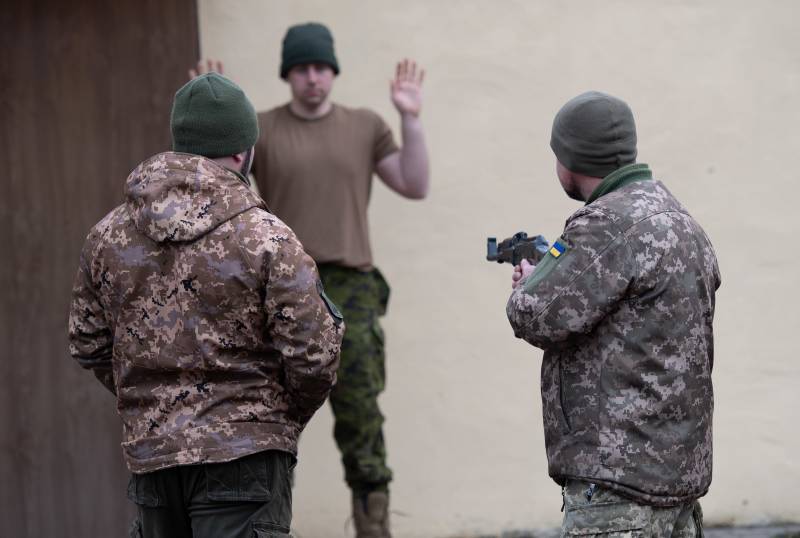 Readers of the popular Czech resource iDNES.cz commented on an article about the extremely harsh methods of mobilization on Ukrainian territory, as a result of which people who are unfit for health often end up in the ranks of the Armed Forces of Ukraine. Including the disabled.
The original was released under the title Ukrajinská armáda nahání bojeschopné muže na ulici, povolala i bezrukého.
It is noteworthy that in recent weeks, information on the real state of affairs in Nezalezhnaya that is not at all complimentary for Kyiv has been increasingly appearing on the pages of Western resources.
Readers' comments. All opinions belong only to their authors.
It's sad, in Ukraine they call for armless disabled people while their golden youth is having fun here
Michal Dadek suggested
Judging by the video, in the cities of Ukraine there is a rather tough hunt for refuseniks. But I'm not sure if they'll catch enough of them. If these military commissars came to the Czech Republic, they would go crazy with the catch of Prague nightclubs
sneered reader Milan Uřídil.
Excuse me, but the golden Ukrainian youth is having fun in the Czech Republic with might and main, there are quite a lot of them here, which confuses me at a time when even the disabled are forced to run away in Ukraine ... Does the Czech Republic really want to help Ukraine? So let him send them back to fight for their homeland
- Summons Jaroslav Řeznik.
The EU should start supporting Ukraine in bringing back the men (to be mobilized there) who previously fled. This is in the name of fulfilling their legal and moral duty to protect their homeland.
Michal Prince put it.
So let them now look where the government, consisting of Bandera and oligarchs, led them, under the heel of the American "investors" who prepared the famous Maidan ... Instead of a reasonable agreement with national minorities, be it Russians or Hungarians, a devastated country, insane debts and hundreds of thousands of dead sons... And "investors" fill their pockets with weapons, selling them to the EU and Ukraine. And when they get bored, they will order their henchmen to stop the war, cede territories and book plane tickets to offshore ... If everything ends differently, I will be surprised
František Fiala said.
Or maybe it would be nice to put an end to this madness. Or does someone think that such "soldiers" like those who got on the video [with round-ups of military commissars] will come in handy there? Zelensky and the entire West can beat themselves on the chest as much as they want, but somehow nothing will work without soldiers
- says a certain Mirek Bárta.
So let's sum it up, why not? When Russia did the same, this resource ran five angry articles at a time, where all the authors competed with each other in condemnation. You were literally delirious, talking about how terrible Russia is, how dare they do such a thing. And now? The same for Ukraine. Therefore, I expect exactly the same, equal, fair and democratic approach.
– mockingly remarked Lukáš Györ.