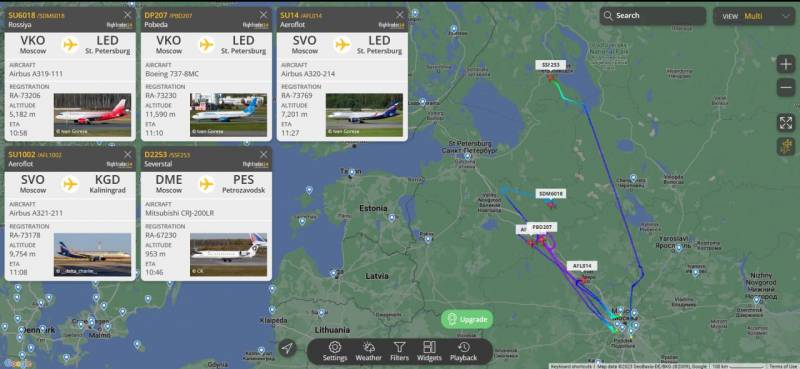 In St. Petersburg, the "Carpet" plan was urgently introduced. The reason for the alarm was the appearance in the air over the city of an unknown object. Pulkovo Airport is reportedly not accepting aircraft at this time.
According to Baza, now fighter jets have been raised into the airspace over the northern capital. According to the Flightradar service, civilian aircraft approaching the city turn around or hold back. Pulkovo airport has announced a flight delay of up to 12 hours, the authorities of St. Petersburg report.
Note that last night, Ukrainian drones made several attempts to attack Russian cities. Three drones with explosives
were shot down
in Belgorod. No casualties or serious damage was avoided.
Two more unmanned aerial vehicles
exploded
in the sky over Tuapse. It is known that they planned to attack the oil depot located in the city, but could not reach the object. As a result of the explosion, an outbuilding caught fire on the territory of the oil depot. Firefighters rushed to the scene and managed to put out the fire within an hour.
We add that until today the northern capital of the Russian Federation was considered inaccessible to unmanned aerial vehicles of the Armed Forces of Ukraine.