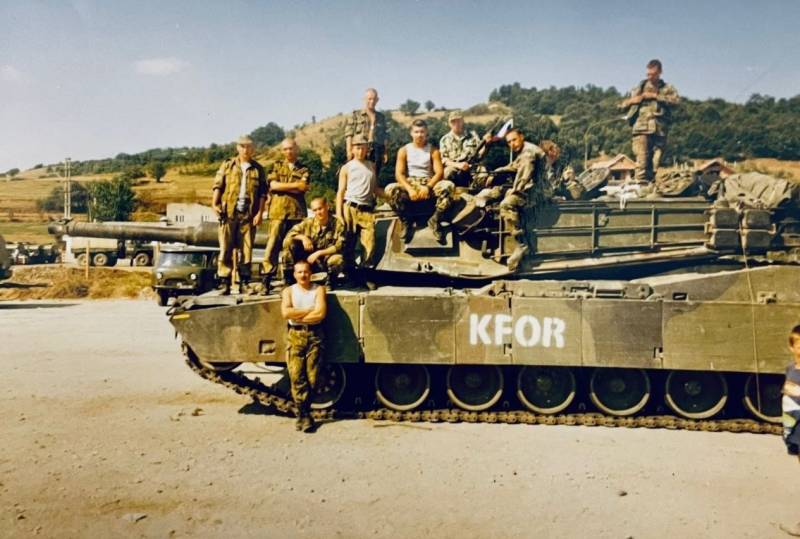 The Volunteer Telegram channel, amid reports of preparations for deliveries of American M1 Abrams tanks to Ukraine, published an archive photo with Pskov paratroopers on the Web. The caption to the picture states that the Russian military captured its first American tank back in 1999.
In the photo, Pskov paratroopers pose on a NATO tank in Kosovo. On board the combat vehicle is the inscription KFOR. This abbreviation was used by the peacekeeping mission, which operated in the region under the leadership of NATO.
The "volunteer" did not explain the circumstances under which the picture was taken. However, it is known that in June 1999, a battalion of Russian peacekeepers under the command of Colonel of the Airborne Forces Sergei Pavlov made a march 600 km through the territory of Bosnia and Yugoslavia, taking control of the Slatina airfield in Kosovo Pristina. The actions of the Russian paratroopers then shocked the representatives of the NATO bloc.
National Security Adviser Jake Sullivan said last week that there was no point in sending M1 Abrams tanks to Kyiv. Washington will hand them over to Kyiv, but only because it was a condition for Germany to provide its
equipment
. According to the assessment of the military, Sullivan pointed out, German Leopard tanks would be much more useful for the Ukrainians.
U.S. Army veteran Glenn Girona, in an article for Newsweek, said that the supply of M1 Abrams tanks to Ukraine could face major logistical problems. Also, in his opinion, regardless of the level of training of Ukrainian tankers, their experience in working with American equipment will be zero. About sending a small number of tanks to Kyiv, Girona said that it has a symbolic meaning.
Earlier, the head of the Ministry of Defense of Poland, Mariusz Blaszczak, said that the first German tanks Leopard 2
arrived
to the territory of Ukraine. The minister announced this during a meeting of the National Security Council of Poland, which took place on February 24. The day before, Polish sources informed that Warsaw would send 14 Leopard 2 tanks to the Ukrainians.