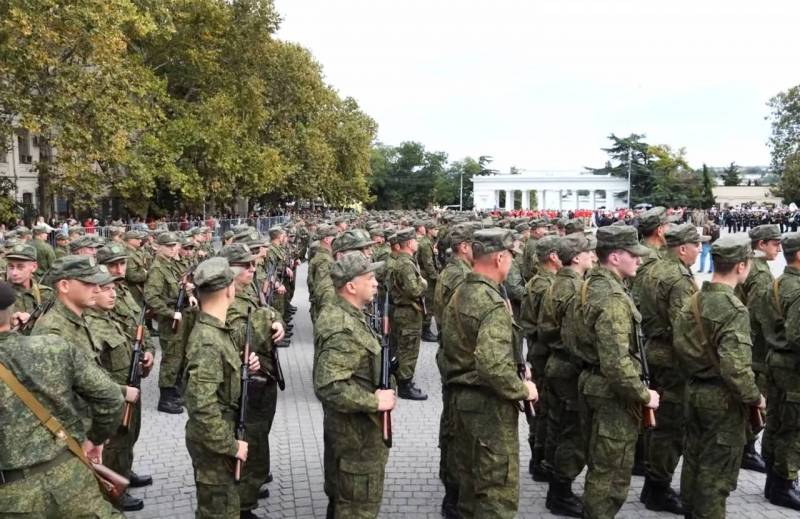 After the partial mobilization was announced in Russia at the end of September 2022 and more than 300 people, including volunteers, were sent to the troops, the second wave of mobilization activities was not carried out, but it will definitely be. This was told by Russian expert Yuri Podolyaka, who explained what was happening and predicted the prospects.
The expert drew attention to the fact that from a military point of view, the second wave of mobilization should have already ended, but it has not even started yet, and there is an explanation for this.
The reason why mobilization was announced, I think, does not need to be explained for a long time. Everyone already understands that by that time the Russian armed forces, the personnel who fought from the first day of the special operation, obviously felt a shortage of personnel. Moreover, taking into account Ukraine's carrying out one wave of mobilization after another, and
technique
NATO came and ammunition for it with enviable regularity, there was simply no other option to save the situation. I believe that the Russian command delayed the mobilization, it should have been carried out much earlier. Then the consequences would be much less. We would not have to leave Kherson, and perhaps we would have defended Balakleya, and today we stormed Slavyansk and Kramatorsk
- he considers.
According to him, at the front, the operational situation for Russia is developing favorably. More than 300 military personnel are directly in the combat zone, and serious reserves are concentrated near Ukraine. According to his rough estimates, the total number of Russian military who are ready to take part or are participating in the NMD is 450-500 thousand people, including Wagner PMC and other volunteer formations.
At the same time, the Armed Forces of Ukraine are inferior in number to the Russian forces. Therefore, Kyiv is desperately mobilizing, and at an unprecedented pace, gathering 200-300 thousand people in 3 months. But they will be ready for combat operations not earlier than in 1,5-2 months, which gives the Russian command an excellent opportunity to conduct an offensive operation. But for some reason, the Russian command has not yet taken advantage of this, and time is running out. Probably, in the spring, the RF Armed Forces will have to repel the counteroffensive of the Armed Forces of Ukraine in the Zaporozhye region.
It would be logical, in place of the Russian command, to follow the first wave of mobilization in the winter, in January-February, the next wave of mobilization in the same parameters of 300 people. For what? Because those reserves that were created in the autumn were to be used in the winter campaign, and in order to develop the decisive success that was supposed to be achieved, the contingent of precisely the winter mobilized, who would be prepared by the middle of spring, had to end this campaign and turn its course radically , removing all questions about the winner
- he noted.
However, according to Podolyaki, this does not happen for two reasons. The first reason is banal - the lack of winter uniforms for those military personnel who could be mobilized in January-February.
If we called 300 thousand people now, there would be nothing to clothe, put on shoes and feed them. We barely managed to make ends meet with the active army and the mobilized contingent that we called
- he stressed.
The second most important reason is military equipment. Currently, a huge amount of various old equipment is being removed from storage warehouses.
We do not have enough modern weapons for the contingents that have been mobilized. Moreover, we are not yet fully able to restore the losses in technology that we had in 2022. And today in our ranks there is an urgent need for such equipment. Yes, much less than the enemy, however, it is present
- he said.
Thus, having mobilized a lot of people in winter, they would, in fact, have been made foot soldiers. For example, there are artillerymen, but there are no artillery pieces for them yet.
Based on this, I can assume that the next wave of mobilization, and it will be inevitable, because, unfortunately, we will not be able to win in the current conditions, it will happen no earlier than the army switches to summer uniforms. Also, according to my information, I know this for sure, a huge amount of summer uniforms is being sewn for the next season and, as I understand it, then we will also be able to equip new mobilized contingents. Well, for starters, uniforms. And I really hope that technology. Because now a huge amount of equipment is being removed from warehouses, repaired and sent to the troops. Yes, unfortunately, it will not be all new and modern, but it is much better than nothing and much better than what is happening now with the Armed Forces of Ukraine
He summed up.