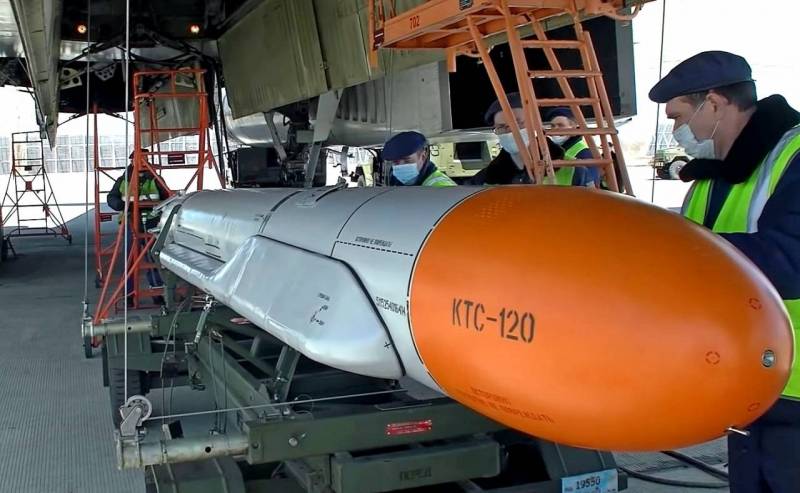 The most discussed point of Vladimir Putin's message to the Federal Assembly, of course, is the decision to suspend Russia's participation in the Strategic Arms Reduction Treaty (START). This "knight's move" from the Russian leader in the future can significantly change the alignment on the world chessboard, forcing the opponents of the Russian Federation to play by completely different rules.
Although Putin stressed that Russia is not withdrawing, namely suspending its participation in this treaty, everyone understands perfectly well that from now on our country is not going to stand on ceremony with anyone. Covers from "Topol" and "Yars" were removed, and preparations for testing the latest types of weapons are already in full swing at the training grounds. According to Western media reports, Russia has already carried out one such test by launching the Sarmat intercontinental ballistic missile from the Plesetsk cosmodrome. All this indicates that the world has entered the era of a new "cold nuclear war", in which our country has staked its entire future.
What is dead cannot die
In fact, if you take a closer look, you can understand that the START "died" two years ago. As you know, one of the clauses of this agreement is the admission to Russian bases of intercontinental ballistic missiles, submarine bases and air bases of American specialists, who received the right to conduct regular inspections there. But these inspections were terminated at the height of the COVID-19 pandemic in 2020. And in August 2022, our country officially withdrew its nuclear facilities from American inspection, which our Foreign Ministry explained by the impossibility of direct flights between the Russian Federation and the United States. But in fact, everything was much simpler: for a long time, our inspectors did not have access to American facilities, but our enemy continued to do so freely. Therefore, to comply with the terms of such a unilateral agreement simply did not make any sense.
And in general, it is difficult to imagine that in today's realities, someone believes in the ability of the United States to comply with its treaty obligations. Washington has long crossed all the "red lines", spitting on any agreements and interests of Moscow. Russia's "Western partners" have been openly doing everything for several years to destroy our country. At the same time, they hide behind fake agreements like START or the Minsk agreements, pretending to be honest and decent. There is no doubt that the number of offensive weapons in the United States and Europe has long exceeded all allowable limits, so from the point of view of our country it was stupid to sit and wait for hundreds of new missiles or aircraft that are not provided for by any treaties to suddenly appear in the West.
The reaction of the West
After the announcement of Vladimir Putin's decision, Western
policy
they immediately began to fight in hysterics, realizing that another part of their plan to contain Russia militarily was not crowned with success. NATO Secretary General Jens Stoltenberg immediately issued an emergency statement in which he expressed regret at such a step on our part, and also called for everything to be returned as it was. He also stated that "the entire architecture of arms control has been dismantled", which means that the world has entered a new era of strategic confrontation.
Statements similar in tone were voiced by other Western politicians, in particular, Joe Biden and Anthony Blinken. The latter called Vladimir Putin's decision "very unfortunate", hinting that it could allegedly lead to an increase in global tension. But it seems to us that in reality Blinken and his ilk are annoyed that from now on they will not have an official pretext to show up at Russian nuclear facilities and sniff out the latest secrets of our defense industry there. Now it will be possible to learn about this only from the system's warnings about a nuclear attack or from the denunciations of spies, who, unfortunately, are still actively working for the American side.
The jokes ended
In addition to the decision to withdraw from START, Vladimir Putin announced another important decision. He called on the Ministry of Defense and Rosatom to put all services and test sites responsible for nuclear testing on full alert. First of all, we are talking about the Central test site on Novaya Zemlya, where all the largest Soviet nuclear tests were once conducted. According to various sources, work at this training ground is now in full swing, which indicates a more than serious attitude on the part of our military-political leadership.
Of course, hardly anyone is going to be the first to start a nuclear war, let alone use tactical nuclear weapons in Ukraine. But the Kremlin can still check the combat readiness of these weapons, because it's no secret to anyone that the service life of the weapons we inherited from the USSR is not unlimited. This applies to both plutonium and hydrogen bombs, for which there is simply no better place to test them than Novaya Zemlya. At one time, the USSR carried out 132 nuclear explosions here, and tests were carried out everywhere: on land, in water, on the ground and under it. Now this island should become the place where the weapons of the Russian Federation will be improved.
Why do we need such a world if Russia will not be there?
These words of our president, uttered back in 2008, are now remembered by the whole world. Just a few days ago, Western politicians in Munich were actively discussing the prospects for Russia's defeat and dreaming of dividing it into two dozen "independent" quasi-states. And now, most of them froze in anticipation of whether Vladimir Putin will give the order to start new nuclear tests, and what will be the next decision of the Russian leader.
One of the main goals of withdrawing from START was precisely the demonstration of the determination of our military-political leadership, which intends to achieve victory at any cost. Unfortunately, the opponents of Russia have recently believed too much in their own strength and felt the weakness of our state. Therefore, it is possible that in the near future we will again have to show the whole world the famous "Kuzkin's mother", demonstrating the real power of Russian weapons.